Cindy Hammond sent me the following report on how the local teams did in the recently completed "Destination Imagination" global finals (read
this post
for the back story):
Over 1000 teams from the US, UK, Canada, China, Finland, Turkey, Poland, Singapore, Mexico, Guatemala, etc. competed in the Destination Imagination Global Finals held on the campus of the University of Tennessee. Midland Teams fared very well this year. Our 9th graders placed 3rd out of 60 teams in the challenge "DI've Got a Secret." Their team known as "DOUGITIT" competed at the high school level against other 9-12 graders. The 5th graders, "The 6 Oddballs," placed 10th out of 80 teams in the challenge "Hit or Myth." The 5th grade team placed 2nd in their instant challenge component - which is a very difficult thing to achieve!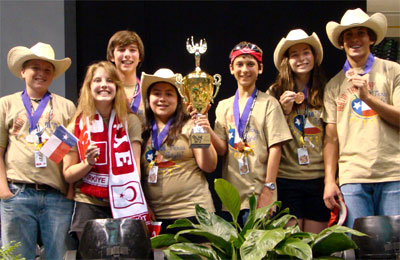 Above: 9th grade team DOUGITIT
Below: 5th grade team The 6 Oddballs
These smart, creative, and cute kids remind me a lot of myself when I was their age, except for the, um, smart, creative, and cute part. The only thing that puzzles me is why the 9th grade team chose to hold up a trophy instead of a Fire Ant Gazette coaster. Obviously, these kids still have a few lessons to learn about priorities!