Me:
Are you still coming home for lunch?
She: Yep. Me: Good. I'll fry* you up your usual Chunky Girl soup.
She: What'd you just say?
Me: Uh...what? Oh, I just said, uh, that I'd make your usual soup.
She (doubtful): OK.
That's what I get for being observant. Well, that's what I get for being observant and a smart-aleck. I can't help it if I noticed the ill-advised way that our local grocery store choose to abbreviate Campbell's Chunky Grilled Sausage and Chicken Soup: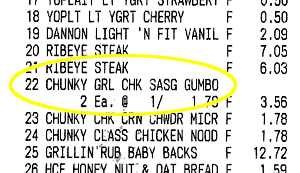 By the way, MLB (who, just for the record, is the antithesis of "chunky"), contends that this particular model of soup is her very favorite, and well worth trying.
*Actually, it's 1:45 in the microwave. Frying is not remotely involved, as that would smack of cooking, an endeavor to which I do not aspire.