It was possible that in the hubbub surrounding some football game that took place Saturday night in Austin (*yawn*), a more momentous occasion was overlooked. We at the Gazette want to do our part to ensure it's recorded for posterity.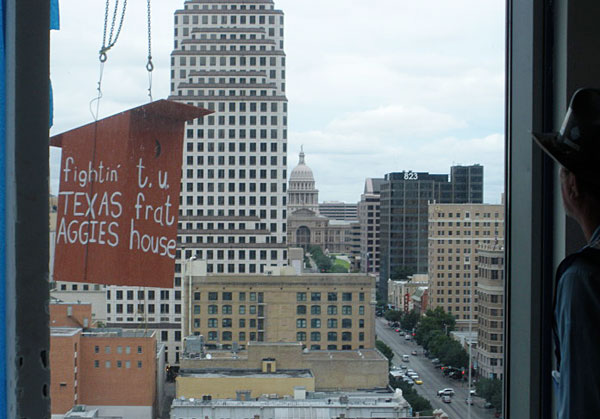 This photo was graciously sent to me by Gazette reader Lisa, a Georgetown resident whose husband's construction company just celebrated the topping-out of what is now Austin's tallest building (
legacy media news report
). Here's an excerpt from Lisa's transmittal email:
This past week, my husband's construction company celebrated the Topping Out (not Topping Off, as the media likes to call it) of the city's now-tallest building. It was a big day in Austin, covered by lots of media. What they didn't talk about, however, was the tradition of construction companies to mount a tree to the uppermost part of the building to symbolize its completion. And since this project is managed by a bunch of Aggies, they celebrated with
this photo
. And that shot? It was taken from Mack Brown's unfinished suite on the 17th floor.
In case you don't know, Mack Brown is the head football coach for UT (or, tu, for my Aggie compadres). I can't help wondering what surprises might await Coach Brown once he's moved into his new digs.