I recently filled up a 1TB internal hard drive with Time Machine backups. I ordered a 2TB drive to take its place, and put the full, bare drive in a drawer for safekeeping.
A couple of months later, I needed to access some of the data on the old drive, so I pulled out a USB "universal drive adapter" and tried without success to connect it to my Mac Pro. I never figured out the issue, but I also didn't spend a lot of time on it since the situation wasn't critical. But it made me think that there had to be a better way to access old hard drives.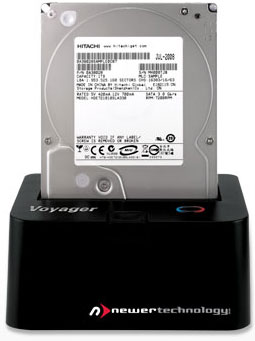 Enter the
Voyager family of hard drive docks
, from Newer Technology. These little units sit on your desk, looking like stubby toasters, and hook up to your computer via a wide array of connectors (including USB 2, FireWire 400/800, and eSATA). They accommodate both 2.5" and 3.5" bare SATA hard drives in their "toast" slots, in capacities up to 2TB.
Mine just arrived this afternoon and I quickly unpacked it, and connected it to my Mac via FireWire 800. (The unit comes with all the connector cables, which is pretty cool in and of itself.) I grabbed the aforementioned 3.5" drive and stuck it in the slot, hit the power switch on the dock, and in less than a minute, the drive appeared on my desktop as a typical FireWire volume, and was accessible just like any external drive.
The unit is plug-and-play (on my Mac, anyway) and the drives are hot-swappable.
This is a great and relatively inexpensive solution for the problem of what to do with full back-up hard drives. Combining a Voyager dock with
these stackable anti-static storage cases
makes accessing back-up data easier than ever.