Yeah, I confess that I'm sort of a QR code junkie (although I prefer the term "aficionado," because it's more fun to say). But after
this post
, and following a discussion with a client about possible ways they could help achieve his organization's mission, I have a heightened awareness of how they're being used in real life.
The most recent example appears in the current edition of
Spirit
, the
Texas A&M Foundation
's quarterly magazine (you can download a PDF version
here
). It uses QR codes linked to YouTube videos to supplement the written articles. Below is an example: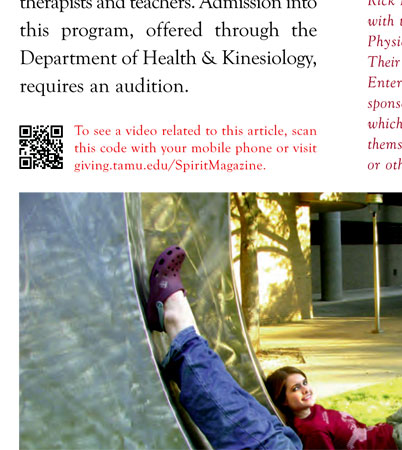 It's an effective way to expand on subject matter in traditional media, although it requires a bit of work from the reader. This is apparently a new technique for the magazine, because the publisher has included detailed instructions on the table of contents page about how to use the QR codes.
The magazine's use of the codes works well, although I think that they should have made them larger. It took a little practice to know how best to hold my iPhone to get the software to scan them (I use
RedLaser
).