Hi, Greg. Our 13-year old Duplex is starting to show its age and we're considering a new Gulfstream. We'd like to have a bike that's more convenient to travel with, and the option of having 8 S&S couplings with the travel cases is intriguing.

What is the upcharge for that option? Also, what is the lead time for building a Gulfstream with that option? We're planning to be in Colorado in mid-July and if the timing would work out, we could stop by and pick up the bike.

And, finally, what sort of deposit do you require?

Thanks for your help with these questions.
That relatively innocuous email was sent to Greg Peek, founder and owner of American Track Roadsters (which builds cars) and Longbikes (which builds bicycles). That message was emailed on May 17, 2011. Almost a year to the day, this showed up on our front porch: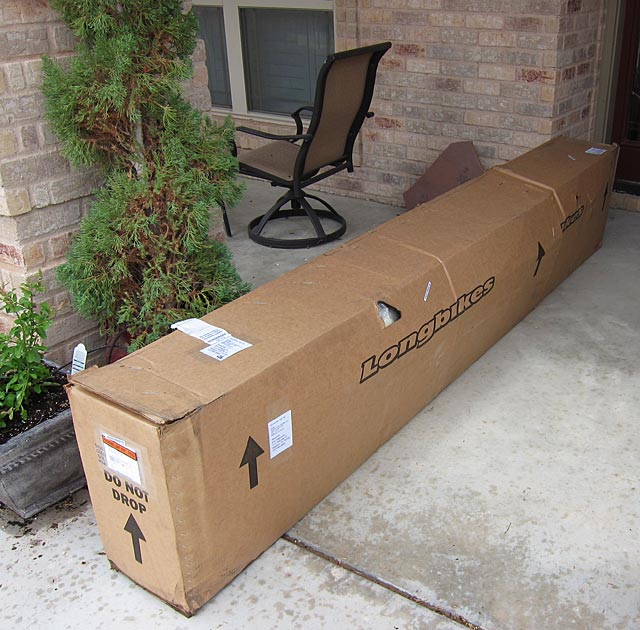 It's our new, made-to-order
Gulfstream
recumbent tandem. I spent a couple of hours yesterday assembling it, and here are some photos of the almost-finished product. (Still to come: better pedals, fenders, computers, rear rack, and Hurst 6-on-the-floor shifter. OK, I'm kidding about that last thing.) Click on the little pics to see the big ones.
There's also a lot of tweaking left to be done. This bike has a lot more flexibility in setting up the riders' positions than our old bike, and I suspect it will take a few rides to get everything just right.
I haven't tried out the
S&S couplings
, the connectors that allow us to split the bike in two for easier transport. I hope it's easier than it sounds.
It's been a long and sometimes frustrating project. We almost gave up a couple of times because of the delays, but now that it's here, I have to admit that it's worth the wait. The quality of engineering, build, and attention to detail are impressive, and while these photos don't capture it, the dark maroon (surprise!) metallic paint job is going to rock in bright sunlight. Greg Peek has definitely improved on the design of the original model, Dick Ryan's Duplex, which has always been the gold standard for 'bent tandems.

Watch for us on the road!