My dad passed away a couple of weeks ago, following a battle with Parkinson's Disease. I want to post a few things about his life to honor his memory, but for those who didn't know him, I'll start with his obituary. I drafted it, and if you've never written an obit for a loved one, you may not realize how intimidating the task can be. Trying to capture the essence of a person's life in a few words is an impossible undertaking, especially for someone who lived almost nine decades. The best you can hope for is to write something that causes those who knew him to nod in agreement, and allows those who didn't know him to feel like they perhaps did after reading it.
You can judge for yourself whether I achieved this goal, but this isn't about me. At the very least, I hope the following provides suitable context for what will follow over the next few days or weeks.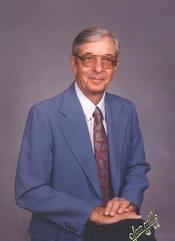 Raymond Donald Siegmund, long-time West Texas resident, passed away in his hometown of Fort Stockton on November 5, 2012 following a lengthy illness.
Ray was born in Gainesville, Texas on November 28, 1923. His parents were Otto Bernhardt Siegmund, a German immigrant and farmer, and Louise Emily Jander from Muenster, Texas.
Ray graduated from Gainesville High School, and was a proud and loyal graduate of Texas A&M University, receiving a Bachelor's Degree in Animal Husbandry in 1949, and a Masters Degree in Education in 1974.
His college career was interrupted by World War II. As a member of America's Greatest Generation, he entered the Army in February of 1943 and served in active combat in the European Theater as a light machine gunner in the 104th Infantry Division. He was awarded three Bronze Stars, as well as a Purple Heart as a result of a serious wound from a sniper attack in Germany's Hürtgen Forest that resulted in his honorable discharge from service in December, 1945. He carried the bullet from that attack in his arm for the rest of his life, and it was a recurring source of conversation among his friends and family, and of confusion and occasional consternation among medical professionals.
After returning to the States and graduating college, Ray began a 32-year career with the Texas Agricultural Extension Service.
Ray married Melba Jo Sipes on July 21, 1951, in Wheeler, Texas, where he was working as a County Agricultural Extension Agent and she was employed as a secretary with the Soil Conservation Service. They became the parents of two sons, Eric Don, born in 1952, and Reid Brent, born in 1955.
In 1956, the family moved to Fort Stockton, where Ray had accepted the position of District Agricultural Extension Agent, supervising county agents in a 25-county, 52,000 square mile area. He retired from the Extension Service in 1980, but he didn't retire from working, as he became the full-time proprietor of the landscape business he founded, Trans Pecos Plants, thereby continuing his love of working with plants and trees.
Ray had many interests in his life in addition to his devotion to his family. He was an avid stamp and coin collector, golfer, and pecan grower. He exhibited more than a dozen county and regional pecans, and had two Texas state champions. His determination to make the West Texas landscape greener is evidenced by the many trees he planted around the area, including many of the Afghan pine trees that grace Fort Stockton's golf course (and occasionally annoy the golfers). He loved being outdoors, and while he was known to occasionally hunt and fish, it was enough for him to be outside just enjoying nature's wonders. His sons have vivid memories of trekking for what seemed like miles across the Edwards Plateau in search of unusual cacti and other native plants.
Ray was a man of faith, having become a Christian early in life, and was an active member of First Baptist Church in Fort Stockton, where he served as a deacon, choir member, and Sunday School teacher for decades, until his health intervened. He was a 4-H leader for many years, a charter member of the Fort Stockton Rotary Club, a long-time member, ambassador, and past president of the Chamber of Commerce, and served as chairman of the West Pecos chapter of the American Cancer Society.
Even though the latter stages of his illness had begun to affect his mind, he kept his gentle spirit, attitude of contentment, and sense of humor. He never met a stranger, and never tired of talking to people about his family, vocation, and alma mater.
Raymond was preceded in death by his parents and by two brothers, Robert and Joe. He is survived by his wife of 61 years, Melba Jo of Fort Stockton, his sons Eric (Debbie) of Midland, Texas, and Brent (Lisa) of Fort Stockton. He is also survived by siblings John (Joy) of Denton, Texas; Martin (Jane) of Aledo, Texas; Alice Davidson of Muenster, Texas; Sally Bush of Arlington, Texas; Margaret Langford of Albuquerque, New Mexico; and David (Susan) of Fernandina Beach, Florida. He is also survived by numerous nieces and nephews and extended family members.
Visitation will take place from 6:00 p.m. until 8:00 p.m. Thursday, November 8 at Heritage Funeral Home in Fort Stockton. On Friday morning, November 9 at 10:00 a.m., funeral services will be held at First Baptist Church, Fort Stockton. Graveside service will follow at East Hill Cemetary with Rev. Bob Schmeltekopf officiating both services. Heritage Funeral Home has been entrusted with the arrangements. The family respectfully requests that in lieu of flowers, donations be made to The Wounded Warrior Project, First Baptist Church of Fort Stockton, or to your favorite charity.