Alert Gazette readers with too much discretionary time and/or lack of cable TV will remember
this post
wherein I revealed that a new dance studio would soon be opening in Midland. Here are a few more details.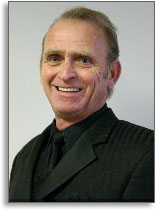 The studio is a spinoff from the Elegance Ballroom in Oklahoma City. The studio manager, Michael Greenwell (photo at right), emailed me last week to say that they are still targeting a January 2nd opening date, but they have a lot of work to do before then.
The studio will be located in the Colonnade at Polo Park shopping center, near Abuelo's Restaurant (4610 Garfield Street, Suite B1 - in the interior of the northeast sector, to be more precise). The space they've leased is almost 4,300 square feet, and they have an option to expand beyond that. At this point, I'm not sure how much of that will be dance floor.
This will be a full service studio, offering group and private lessons, as well as regular - perhaps as often as weekly - social dances. They'll teach all steps - including ballroom, Latin and country - and at all levels of experience. The studio will offer services such as choreographing and teaching routines for weddings and quinceañeras, and their facility will also be available for private parties. They plan to eventually have six fulltime instructors, and will also have a shop for purchasing dance shoes, clothing, and accessories.
I've met four of the staff and they are all very friendly and are also quite impressed with the vitality of the Midland economy and the hospitality of our city's residents. I think they'll also be impressed with the vibrancy of the local dancing community, and the studio will be a welcome addition to the dance scene.
Here's a link to their website -
Elegance Ballroom
. I expect it to be updated more frequently once they get over the not-inconsequential hurdle of getting the physical facility up and running.