One Square Mile: Texas
is an upcoming PBS television series that will focus on nine very specific geographic areas across our state...including one located in Midland. The square mile in Midland is being referred to as "Holiday Hill Village," and has as its approximate center C.J. Kelly Park, in the northwest quadrant of the city. Here's a locator map of the area: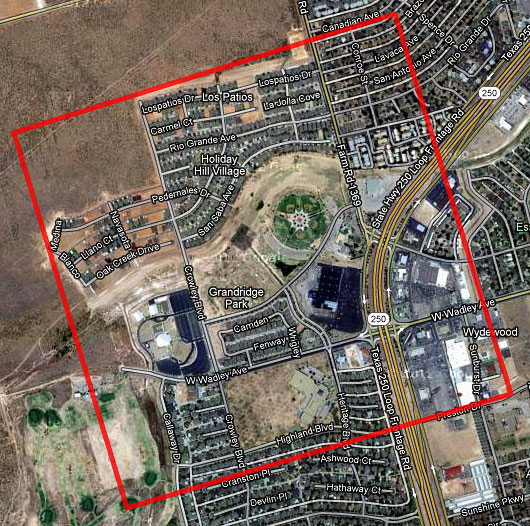 At first glance, I couldn't figure out why the producers picked this particular area to represent Midland (other than they claim that the locations were "selected from viewer suggestions and were pulled from over 200+ nominations across the state"). For one thing, there are no Tex-Mex restaurants within the boundaries. You have to go out of your way to find a square mile in Midland with no access to fajitas. Plus, there are no pumpjacks or drilling rigs, or at least there weren't any a couple of weeks ago. That may well have changed by now.
On the other hand, I don't have a better suggestion for an area this size that better represents the identity and diversity of Midland, Texas. The boundaries encompass a bowling alley, a Freebirds, a sporting goods store selling guns and ammo, a Christian bookstore, a Cracker Barrel, a home improvement store, one of the larger parks in the city, one of the largest churches in the city, an apartment complex, a new and burgeoning upper-middle-class housing development as well as a more well-worn residential neighborhood, a large junior high school, the edge of a golf course, and some pasture that undoubtedly sports a healthy population of rattlesnakes and jackrabbits.
Anyway, the producers of the series are soliciting suggestions for stories that arise from life within this square mile area. They are specifically targeting the following themes:
Community - What role does community play in this square mile. How do residents interact and socialize? Is community involvement centered at the school, the barber shop, the cafe or the home?
Family - What is the role of family in this square mile? What is it like to live, grow up or raise a family in this square mile?
Work - How do people earn a living in this square mile?
Food - How is food a part of the culture in this square mile?
Future - What is the future of this square mile?
Any Midlander can make a suggestion as to a storyline for this segment of the series,
via this webpage
. So, if you know someone who lives within this square mile and who has a story that you think others would want to hear, drop the producers a note. It wouldn't even be considered crass to nominate yourself, if your address so qualifies you.