Debbie and I were honored to attend the grand opening of the
West Texas Food Bank
's new Odessa facility last Thursday, and we came away more impressed than ever with an organization that plays such an important role in our region.
The new facility was the result of a beautifully-timed capital campaign that raised more than $13 million in just thirteen months. The money was used to build the new 60,000 square foot building in Odessa, as well as a 20,000 square foot facility in Midland that should be completed this spring. The WTFB's Alpine facility will also be upgraded.
If you're unfamiliar with the WTFB - which celebrated its 30th anniversary in 2015 - here are a few relevant facts that will give you an idea of the work they're doing:
Service area: 19 counties in West Texas comprising 34,000 square miles;
Partners with more than 75 local hunger-relief agencies including food pantries, community kitchens, emergency organizations, shelters, residential centers, rehabilitation centers, and senior/youth centers;
In 2014, WTFB distributed 5 million pounds of food, or the equivalent of 4 million meals;
95 cents of every dollar received goes directly to hunger relief.
The title of this post is not hyperbole; the new facility is a beautiful example of professional planning and execution. It manages to be perfectly functional while also being inviting to clients and volunteers.
Parkhill, Smith & Cooper
provided architectural services (and also presented a $50,000 check at the grand opening!) and Cooper Construction did a masterful job of building the facility. I could go on and on, but how about if I save many thousands of words and show you some photos?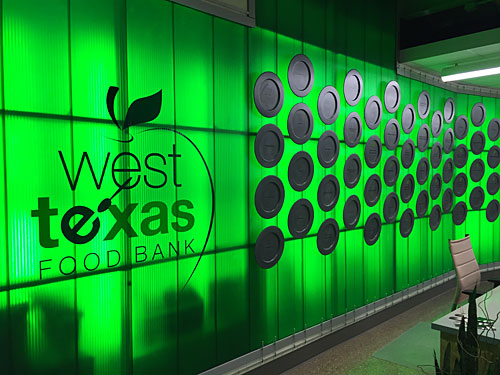 This is the lobby of the new building. The suspended plates bear the names of the major donors to the capital campaign. (I don't know whether they'll be on permanent display or if they were just presented for the grand opening.)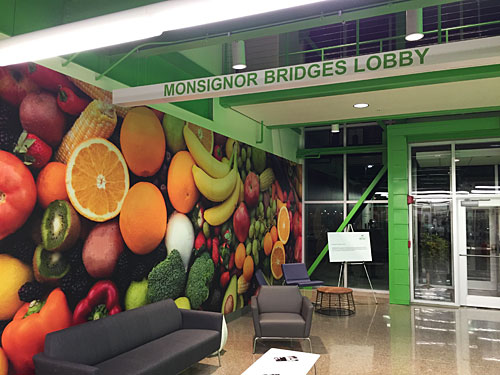 This is another view of the lobby, which you'll note is named in honor of Monsignor James Bridges. Msgr. Bridges is pastor of St. Stephens Catholic Church in Midland and was instrumental in forming the Permian Basin Food Bank, which later became WTFB. In fact, he holds a significant place of honor in the lobby of the new facility (in addition to its bearing his name)...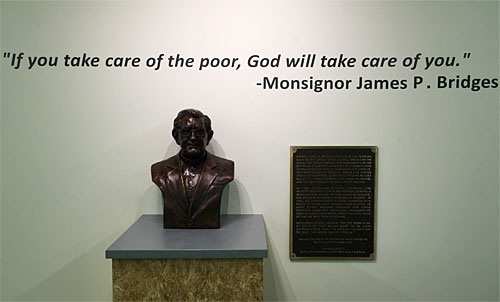 As you enter the lobby, you are greeted with a view of a state-of-the-art commercial kitchen, aka the BHP Billiton Community Kitchen.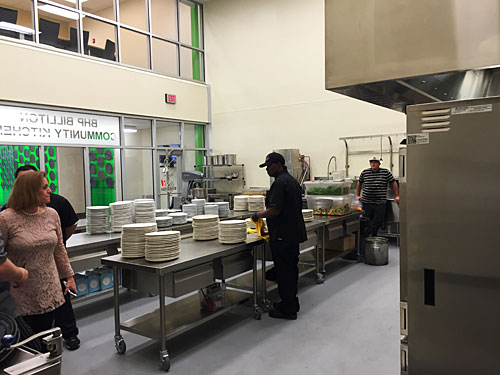 As you walk past the kitchen, you get a view of the Odessa Development Corporation playground.
This area is where children of volunteers and clients can have fun while the adults are either working or being served. There are big windows looking into the volunteer area so that kids can keep an eye on their parents and vice versa.
Just past the playground is where the really interesting stuff begins.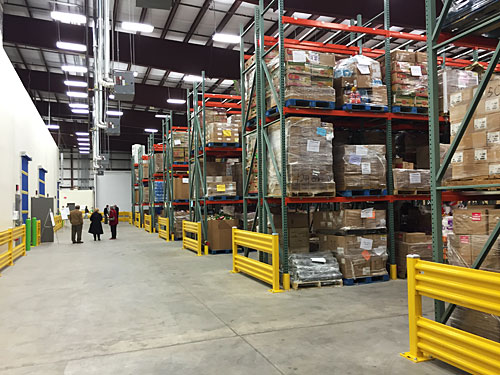 This huge warehouse is where non-perishable food (and other donated items and supplies) are stored. It's brightly lit and well-organized.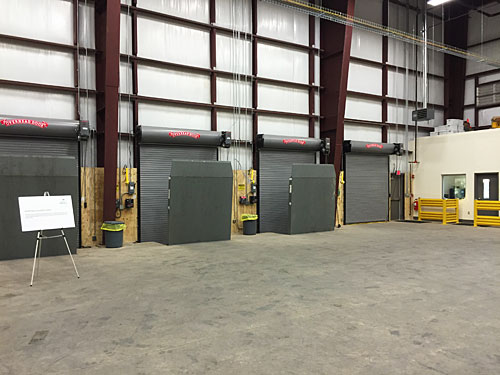 The warehouse has four loading docks, with plenty of room for trucks (unlike the previous facility where drivers sometimes charged an extra fee because of the parking challenges).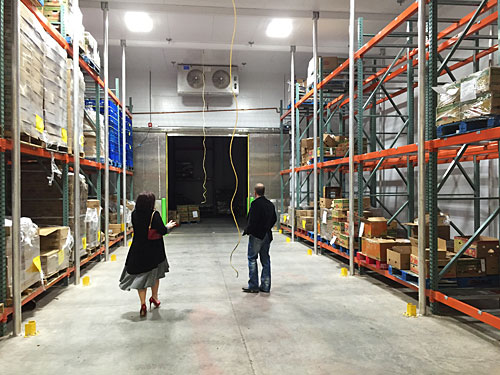 Above is the walk-in cooler room (we can attest to the efficiency of the cooling system!), and the door at the back leads to the freezer.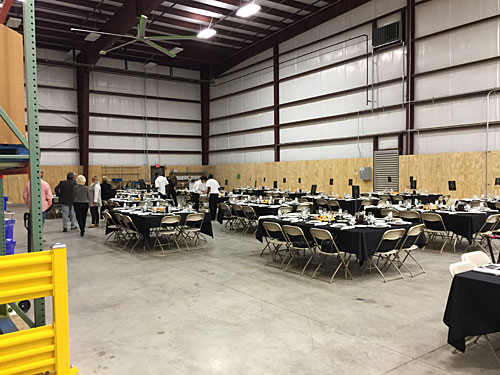 This is the 5,500 square feet Abell-Hanger Foundation, Inc. Volunteer Center, where community volunteers sort donated food, build food distribution boxes, and sack food for hungry children. (In 2015, 2,400 volunteers contributed 11,650 hours of service.) This venue will also seat up to 300 guests and will be made available to outside organizations who wish to host work parties combined with a time of entertainment. In the above photo, tables for the grand opening banquet are set up.
Food distribution is obviously a big part of WTFB's services, but it also offers in-house client "shopping" services via the fully-provisioned Scott & Minka Sibert Client Service Area.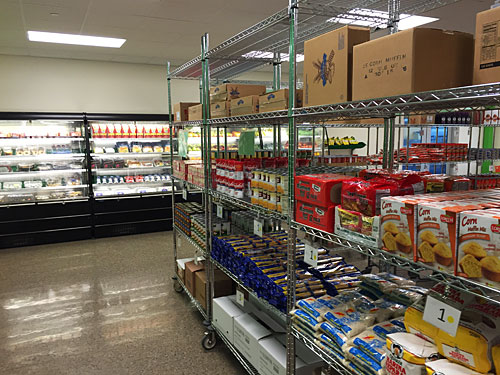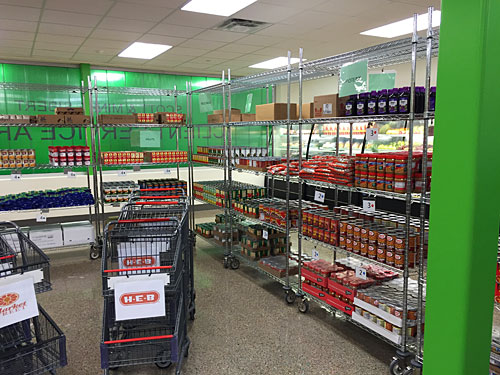 Clients can shop for their groceries while also receiving education and advice about nutrition.
Heading upstairs, you'll find the administrative offices, as well as the board room (sponsored by the Saulsbury Family Foundation), and a community room (sponsored by Lissa & Cy Wagner and Frances & Jack Brown) with A/V capabilities that accommodates up to 100 people and is available to local groups and organizations.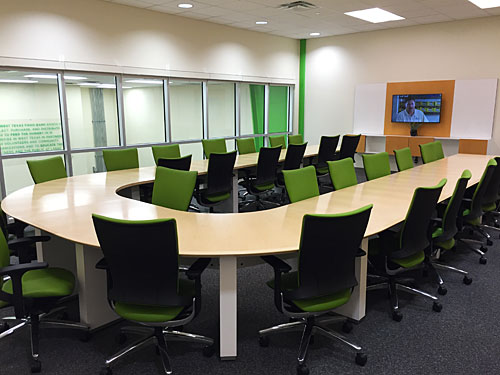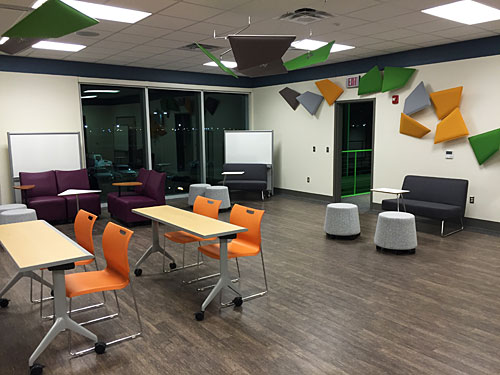 This new facility is a jewel for West Texas, and it couldn't come at a better time, given the recent downturn in our oil-dependent economy. But this is just the start; plans are for the facility to eventually become energy independent (via solar technology to be funded by BHP Billiton). It will also feature a community garden and water collection tank.
Debbie and I are strong believers in the WTFB's mission. If you live in West Texas, I hope you'll consider giving them some support.