It's been a couple of weeks since I finished The Hummingbird's Daughter, by Luis Alberto Urrea. I've intentionally delayed a review of the book, hoping to find some inspiration to describe this inordinately beautiful novel set in Mexico near the turn of the 20th century.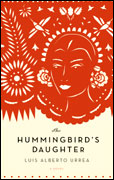 When Miriam Parker, Time Warner Book Group's Manager of Online Marketing, recommended the book to me, she described it as "like nothing I've ever read before." I'd have to say that while that's not a particularly helpful description, it succinctly sums up my reaction, as well. This is a book that defies categorization: it's a historical novel; it's a religious fantasy; it's a bawdy comedy; it's a primer on Mexican folklore and the cuarandera's (healer's) art.
Above all, it's a gripping account of nothing less than the beginning of a sea-change in Mexican history, as we see how the life of a peasant girl sets in motion ripples that affect the course of an entire nation.
Urrea paints a picture of what can be described only as feudalism in Mexico. The gap between the rich and the poor is so wide as to stagger the senses. The brutality of conflict between the original inhabitants of Mexico and the Spanish-bred "ruling party" is likewise staggering. But even in the midst of the gritty reality, beauty and poetry is found, more often and more amusingly than you might expect.
I won't get into the storyline itself...I don't want to spoil the plot, and it's too complicated for a short review anyway. It's enough to say that this book satisfies on several levels and I recommend it highly. My only quibble is with the ending, which leaves some important questions unanswered...sort of like life in general.
One minor footnote: don't read this book on an empty stomach, particularly if you're an afficionado of Mexican food. The author's descriptions of the dining pleasures of the characters are literally mouth-watering!
[For another blogger's take on the book, read Cowtown Pattie's excellent review over at Texas Trifles, but beware of spoilers. I waited until after I finished the book to read her take, and she nails it, in my opinion.]