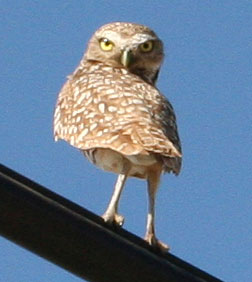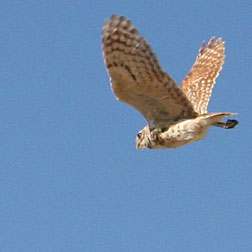 Shutter: 1/1000 sec; F-stop 9.0; Aperture: 6.3;
ISO Equiv. 400; Focal length: 55mm; uncropped image: 8mpxl;
Camera: Canon Digital Rebel XT
Here are some lessons I learned from this morning's ride:
Never assume that a camera on a bicycle is wasted dead weight;


Don't underestimate the patience of a pair of burrowing owls perched on telephone lines;


Likewise, the importance of a good lens and a bunch of megapixels cannot be overstated;
And last but not least...
Skill counts for a lot in photography, but so does blind luck.