Zero degrees longitude, that is, as one of the faithful travels all the way to Greenwich, England in order to pose in front of
the Prime Meridian
wearing a
Fire Ant baseball jersey
. The girl, not the Prime Meridian, that is. Wearing the jersey, that is.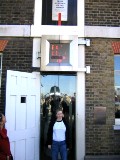 Unfortunately, this photo was taken by one of those really tiny camera phones, then transmitted via the really tiny British bandwidth, and it's hard to discern that that's really the lovely and talented
Molly Woods Murchie of Washington Improv Theater
fame, and star of the troupe's latest 48 Hour Film Project entry,
Unfrightening
, about which
we gushed
back in May. Fortunately, with the help of the folks over at CIS: Permian Basin, we were able to use some time-tested Photoshop techniques to enlarge the photo to offer indisputable proof of the Fire Ant attire sighting. Here's the only-very-slightly retouched image (don't stare at Molly's hands; she
hates
it when you stare at her hands):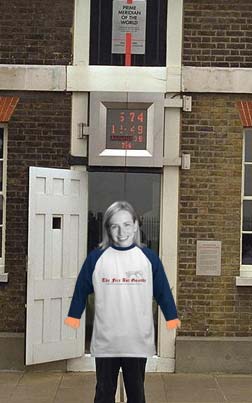 If you have a photo of yourself or someone who closely (or even peripherally) resembles you wearing a Fire Ant something-or-other in an exotic locale, feel free to send it in and we'll throw it up. So to speak.
Update: We've finally procured a full-sized version of the original image and it's shown below. It's remarkable how closely the re-created version shown above matches the actual picture.
Hat tip to Molly's sister, Cindy, who knew exactly what she was getting sis into when she emailed the photo.