I've just learned that Midland was represented by not one but two teams of kids at this year's Destination ImagiNation Global Finals in Knoxville, Tennessee. If you're going "huh?" about right now, join the club; I knew nothing about this event until a Gazette reader (and parental unit of one of the participants) emailed me about it.
According to
its website
, Destination ImagiNation is a
popular process-based program helping young people build lifelong skills in creative and critical thinking, teamwork, time management and problem solving. Up to seven participants work together as a team for eight to twelve weeks to create their unique solution to a Team Challenge, which can have a focus that is theatrical, structural, improvisational, scientific or technical - or a blend of several disciplines.
Over 200,000 students in over 56 countries and the United States participate in the program.
The Global Finals are exactly what the name implies: the winners of the local competitions around the world gather in one venue to compete for fame and glory. Eight thousand kids gathered in Knoxville for this year's finals. The Midland teams represented our fair city in superb fashion, with the 8th Grade team finishing in 8th place, and the 5th grade team finishing 15th. According to my source (we'll refer to her as "Cindy," since, well, that's her name), Midland has been participating in the DI program for only 3 years and this year for the first time made it to Globals with 2 teams. The 8th grade team has been together for all 3 years.
Below is a photo of the 8th grade team's "costume" they designed for the "Out of the Box Costume Ball." (They're a puzzle. Can you solve it?)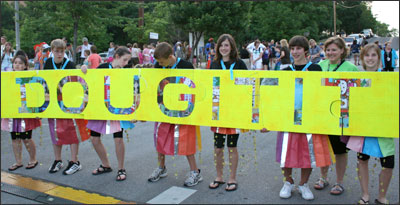 That's pretty cool, but here's the best one: a genuine Fire Ant Gazette sighting: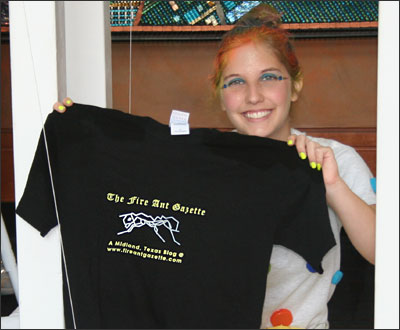 [Sensitivity to online privacy concerns keeps me from publishing the name of the girl holding the shirt, but she's obviously above average in every respect, and especially in her fashion choices. Her nail color even matches the shirt's lettering! Bet you'd like to buy a black Gazette t-shirt yourself, wouldn't you?]
Congratulations to the Midland teams for representing us so well!