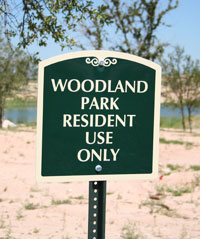 We returned from vacation to find new signs planted at regular intervals along the walking trail that loops the two neighborhood ponds. I have mixed feelings about them.
If you've visited our neighborhood, you would probably agree that the ponds and surrounding landscape are unique in our city - a literal oasis in the desert (or at least in the pasture). As word has spread, we've seen an increasing number of folks coming out to walk the trail and enjoy the scenery. It's also become a favorite setting for professional photographers wanting a outdoor scene as a backdrop for engagement, graduation, and family photos. And a number of people from adjacent neighborhoods have included our area in their regular walking routes.
The majority of visitors seem to be well-behaved and respectful. We've seen a few older teens loitering around, looking like they're up to no good (
hey, youse kids get off my lawn, y'hear?!
), but no obvious signs of mischief have been left behind. However, I've been told that more threatening and/or suspicious activity has been observed by others.
I think that letting people get out and roam around the common area is a good marketing tool for the developers. That's what sold us on building out here.
But, I can also understand that some people don't like having a steady stream of strangers driving and walking around their property. The area is private property, not city-owned or maintained, and we pay for the upkeep via our homeowner association dues.
In any event, my opinion wasn't solicited, and that's just as well, because I'm not sure what I would have recommended. The one thing I am sure about is the appropriateness of the request that owners pick up after their animals. I doubt that anyone would argue with that.
Since drafting this, I've learned that at least one good reason for the signs is to provide the police with the justification to respond to complaints about loitering or other quasi-illegal activity. Since this is private property, without such signs their hands are apparently tied to some extent.