We stayed in a great bed-and-breakfast over the July 4th weekend, the
Firefly Inn
, located near Canyon Lake in the Texas Hill Country. If you're following my
Twitter feed
(and why wouldn't you?), you may have seen my daily reports on the terrific breakfasts we enjoyed during our stay. But I don't believe I mentioned one of the most interesting aspects of the B&B: its address. The Firefly Inn is located on Naked Indian Trail.
When we checked in, the proprietor - a friendly fellow named Jack - anticipated our question. The name of the road is derived from the presence of
Texas Madrone trees
(
Arbutus xalapensis
) on the hillside on which the Inn is constructed. Madrones have a fairly limited range in the Texas Hill Country and Edwards Plateau, and the "Naked Indian" nickname is derived from their "bark exfoliation" characteristic. That is, they periodically shed their bark, and the new bark has a wide range of colors, going to a deep apricot or red that gives rise to the politically-dubious ethnic appellation.
Can't picture it? Here are a few photos I took of some of the specimens on the hillside above the Inn.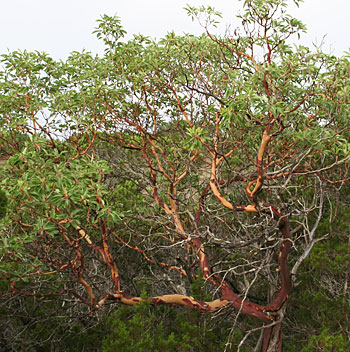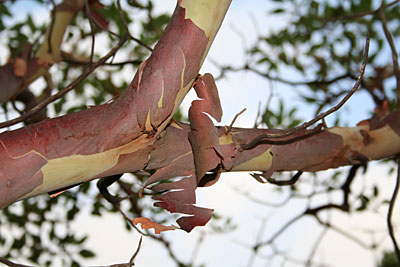 Jack told us that while he wasn't aware of any scientific evidence to prove it, it seemed that Madrones will flourish only in the presence of cedar trees. There's no known symbiosis involved, and it could be coincidental that wherever you see a Madrone, you'll also find a cedar close by, but we did indeed observe that phenomenon, without exception, in this locale.