Lotsa fascinating stuff around the web lately, to wit:
For anyone who loves to read, bookshelves are a necessary evil, at least for those who haven't yet drunk the Kindle Kool-Aid. For one thing, they take up space that might otherwise be productively employed to showcase big screen TVs. However, with a little imagination (and an aggressive budget), they can become something very close to art.


Jackson Pollock's paintings are immediately recognizable, and now you can create your own online versions, thanks to Miltos Manetas (H/T It's Nice That). If the previously linked site seems unintuitive, let me share a couple of tips. After clicking the "Enter JacksonPollock.org" link, you'll find that every movement of your mouse in your browser window results in "paint" being deposited on the "canvas" of your browser window. Each click of your mouse will change the color of the paint flowing from your cursor. Here's the result of one of my experiments (Pollock has nothing to fear from my competition):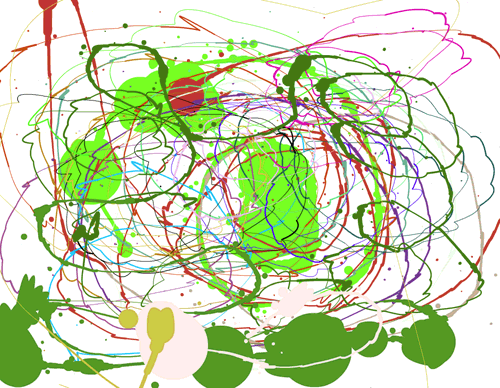 Got a blog or another website containing words? Then you, too, can have your own "word cloud." Why?, you may ask. Why not?, I may reply. And then that brief exchange might someday appear in my own cloud. Here's an example created from the Gazette's home page of a few days ago: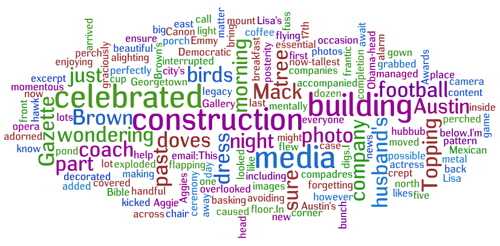 I'm not thrilled about having "coach," "Mack," and "Austin" appear in my cloud, and I could have actually used a feature in Wordle to remove those or any other words from the cloud had I so desired.

Starbucks has finally rolled out an iPhone app for locating its stores. It's free and it works great, unlike some of the third-party apps whose performance is rather dodgy. (I finally now know where the SBUX in San Angelo is located!)

Also on the drawing board from Starbucks is an app that will allow you to use your iPhone as a Starbucks card for purchases. It's now being tested in certain locations in Seattle and the Bay Area of California, according to this post on the Wall Street Journal's Digits blog