The rumor is that the next version of the iPhone will have a 5 megapixel camera that's capable of capturing HD video as well as better quality photos. That's cool, but in the meantime, the camera in the 3GS is a great tool for snapshots, especially when the images are tweaked by one of the many new applications designed to help iPhone photographers be more creative.

A perfectly valid argument can be made that some of these applications are designed to address the shortcomings of the iPhone's camera not by
improving
image quality but by actually
playing up
those shortcomings. In other words, if your camera is going to take crappy pictures anyway, you might as well make them
creative
crappy pictures. (The term "hipster" comes to mind, for some reason.)
I decline to participate in the debate, because I'm in it for the fun. And some of the camera apps jack up the fun quotient by a considerable amount. Take these two, for example.
Hipstamatic
(ooh...another hipster reference!) is designed to make your iPhone's digital photos look analog. I started to say "retro-analog" but that would have been redundant, not to mention dumb. The interface is great; it overlays your iPhone screen with the image of an actual analog camera, and you can change lenses, flashes, film type, and tweak various settings. The default installation gives you more than 200 combinations to fiddle with, and you can add settings bundles via in-app purchases. Hipstamatic is $1.99. Here's a photo I took last night (take note of my new two-monitor layout!); the white border was added automatically by the app: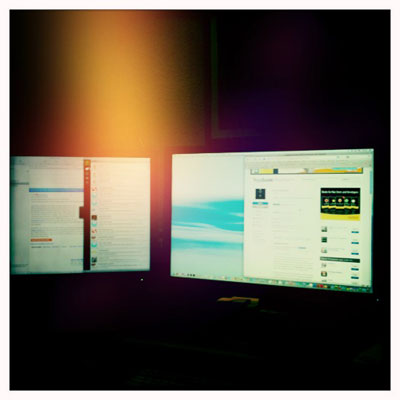 Spica Super Monochrome
is sort of a one-trick pony, converting your camera into a black-and-white model. But if you like that high-contrast, noisy B&W effect, this 99-cent app is the easiest way to achieve it. Be forewarned, though; there aren't any settings...you'll take what it gives you and like it or not. The only options you have are to upload the photo to Twitter or to change the size of the image. Here's a sample, starring my booted foot: