Norman Johnson is a local cartoonist, illustrator, and artist. His work is familiar to most folks in the Midland/Odessa area, whether or not they know its source. Norman is also a gifted caricaturist, and his friends (or, as he would put it, his rapidly-dwindling supply of friends) are frequent subjects. Debbie and I (and even other family members) have fallen into his artistic cross hairs on more than one occasion; below is an example of one he sent me last night.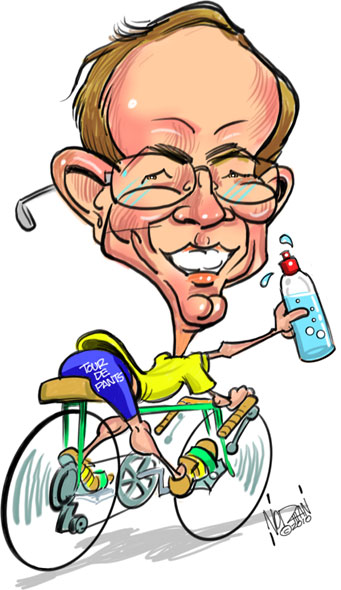 While I must protest certain inaccuracies in this image - I haven't ridden a conventional bicycle in more than a decade, being now of the recumbent persuasion, and toe-clips are soooo 1998 - I do appreciate Norman's generosity in providing me with more hair than is strictly realistic. I'm still trying to figure out the Aqua Velva in the water bottle, though.
Don't be surprised if parts of this eventually appear as my Facebook profile picture.