The December issue of MacWorld has a good tutorial for setting an "if found" message on the home screen of your iPhone. This is accomplished by creating an image to use as wallpaper on your iDevice, and that image is overlaid with text giving instructions regarding how to get in touch with the rightful owner of the lost device.
The example in the magazine uses the following text:
If found, please return phone to Dan Miller 415/555-5555
I'm not crazy about this example. For one thing, it's illogical; you can't return a phone to a name and a phone number. Also, I don't like the privacy implications of putting my name on my phone's screen, along with a phone number.
I think a better approach is what I've done, as shown below.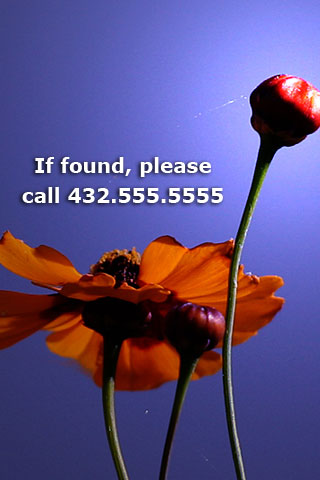 No name, no extraneous text, and the phone number I actually used in place of the sample shown above is my wife's mobile phone, making it harder to cross-reference to a person. But this also has the advantage of increasing the odds of the caller actually reaching someone quickly.
I think I'm more likely to misplace or drop my phone when I'm traveling, and most of my traveling nowadays is done with my wife. Using her cell number means that we wouldn't have to wait until we got home to get information about the missing phone. I'm simply playing the odds.
While MacWorld's tutorial is directed toward the iPhone, the technique will also work for iPad and iPod touch users. The iPod's screen resolution is the same as the iPhone's (320 x 480 pixels), but the iPad's is 768 x 1024 pixels.
Here are the steps for creating your custom "If Found" message.
Find a photo or image that you want to use as your wallpaper, and crop it for the device you're creating the wallpaper for (again, 320x480px for iPhone/iPod touch; 768x1024px for iPad)


Use a photo editing program to overlay the cropped image with the text you want to use


Save the edited image in JPG format


Import the image into iPhoto


Connect your iDevice to your computer, open iTunes, and on the Photos tab of your connected device, make sure that Sync Photos from iPhoto is checked, and that the event or album containing the image that you just imported is also checked. Sync your device to transfer the image to the iPhone/Pod/Pad.


Disconnect the device from your computer and open the Settings panel. Select the Wallpaper setting and navigate to Last Import. Choose the image you created and click the Set Lock Screen button. You can also use the image for your Home Screen wallpaper, but it's not essential, and may not be advisable since the "return phone" text will make for a distracting background for your device's icons.