Debbie and I were in the front yard yesterday afternoon - she was working; I was, um, supervising - and our eyes were drawn to a flock of birds circling our neighborhood's north pond, about two blocks away. I grabbed my video camera, and then returned and got my SLR with a long lens, and documented this unusual display.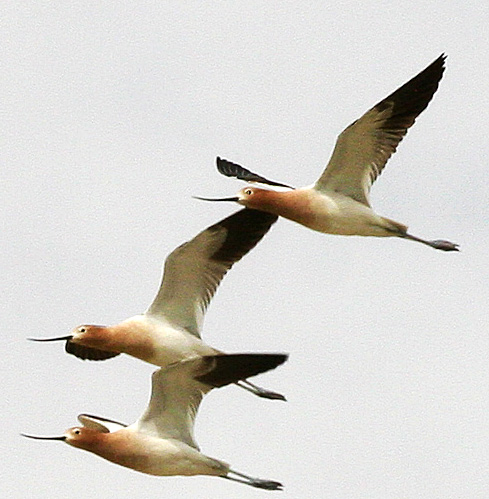 Burr Williams, executive director of the
Sibley Nature Center
, identified the birds as
American Avocets
. They normally inhabit the playa lakes of the Llano Estacado, but with many (most?) of those lakes drying up in the current drought, he said they're looking for other nesting areas.
I don't think they'll find our ponds to be suitable, because there's too much human activity around them, and they're awfully skittish. But they are beautiful birds and a joy to observe. Click on the following thumbnails to see larger versions of each image.
Those two head-on shots are my favorites; they remind me of airplanes flying in formation. In the last picture, notice how their wings seem to be synchronized.
I mentioned a video camera. I did get some footage, and if I can figure out how to edit it properly, I'll post something to YouTube. Those birds are fast flyers and hard to keep in a viewfinder, so don't expect anything professional.