OK, feast your eyes on this little jewel: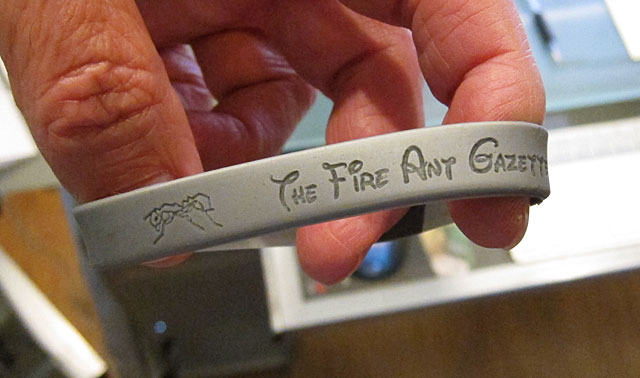 That's right - it's an authentic Fire Ant Gazette wrist band, crafted by otherworldly artisans deep beneath the earth (in the general area of Wickett) from the finest silicon harvested by documented workers from the forests of Silicon Valley, and tinted in Classic Lead-Free Pewter to accentuate the elegance of the finest evening wear and/or t-shirts. It's embossed with the iconic Fire Ant and the reverse side has the URL imprinted with this oddly playful font that evokes the mystery and wonder of Walt Disney after a three day binge with the dwarves.
What's more amazing is that one of these beauties can be yours for a song - well, for a poem, to be more precise. I'll send one to the first three people to leave a haiku about fire ants in the comment section of this post.
Because, frankly, I don't know what I'm going to do with a case of these things. So help me out here, will ya? It seemed like a good idea at the time.