Recognize any of these mooks?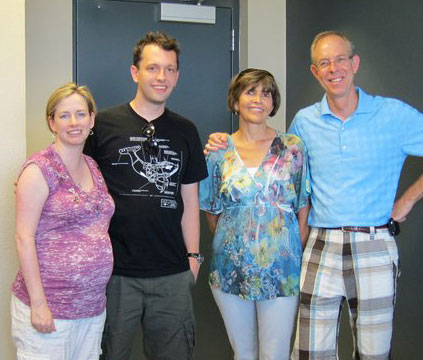 This is a photo of yours truly and MLB in one of the sumptuous skyboxes at Rockhounds Stadium last Sunday afternoon. Those other starstruck folks are Molly (the pregnant one) and Colin Murchie,
whom you've met earlier on these pages
.
OK, they're not really starstruck; they're dazed by a combination of West Texas heat, stadium hot dogs, and the fact that the Rockhounds actually won a game. Plus, they're astounded at my fabulous fashion sense.
Anyway, Molly and Colin traveled all the way from our nation's Capitol to attend Molly's niece's high school graduation and we were privileged to finally meet them.
But, hey...you've got better things to do than click a buncha links, right? I understand, and for your convenience, I'm giving you the actual movie itself. Don't thank me; it's what I do. Enjoy. And if you're wondering, Molly plays the pregnant woman.
Relative from Tyler Korba on Vimeo.
Colin told me that this film was shot using a digital SLR. Pretty cool, huh? Oh, did I mention that Colin and Mollie have a new dog named Frankie who can do a high five?