Midland is in the list of top 10 cities nationwide for the lowest unemployment and our suite of economic indicators is nearing record high levels. Here's a graphic that pretty clearly shows why that's the case.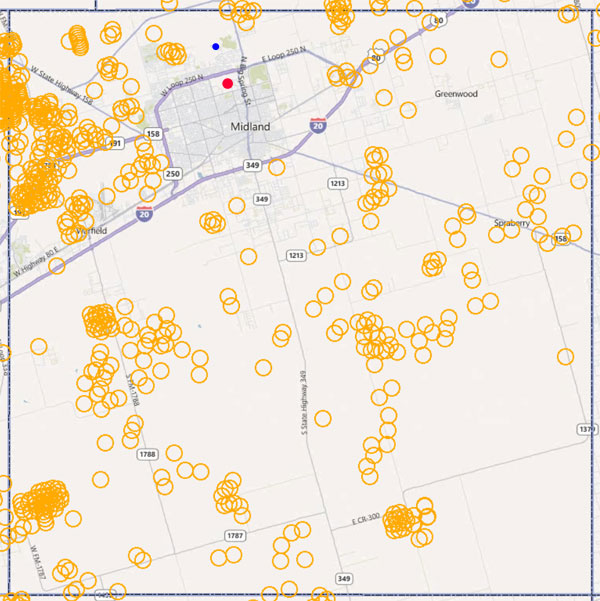 This map show the drilling permits issued for Midland County in just the last six months. Each circle represents a potential oil/gas well.
The small blue dot represents the approximate location of our neighborhood. The placement of the red dot is a bit interesting, as it's the location of our municipal airport, and we expect to see drilling take place there sometime in the next twelve or so months. Even in the heart of the oilpatch, drilling inside city limits is controversial (bringing into perspective the oft-quoted phrase "not in my backyard!").
Yesterday's well blowout in neighboring Martin County
won't exactly soothe fears about drilling adjacent to Midland College and residential neighborhoods.
But, for any number of reasons, such "progress" seems inevitable. It may seem a little hypocritical to accept the good things the current boomlet is bringing, while trying to insulate ourselves against the price it demands. OTOH, it's natural to want to insulate one's family and personal property against the risks of industrial development. I'm just surprised it's taken this long for the opposing forces to finally meet.