So, Converse gives you the power to design your own All-Stars, a sure sign that the Apocalypse is still a ways off. And not only can you customize the regular ol' canvas sneaker, but they also provide
a patent leather version
as a blank canvas on which to paint your footly masterpiece. Can I resist? That would be a "no."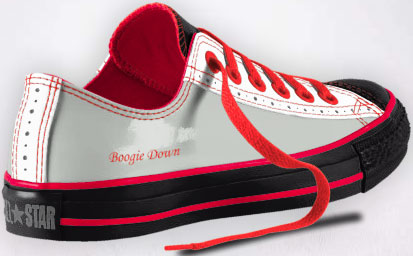 Sure, it looks like a bowling shoe. What's your point?
By the way, it's always a surprise to people when I show up at a dance wearing All-Stars. They really do make very comfortable dance shoes; the soles have just the right amount of friction, and they don't leave marks on the floor.