As Bill Engvall says, you might be a redneck if you have Christmas lights up on your porch year-around.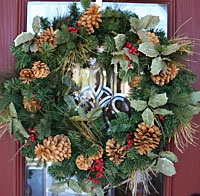 That's an unfair characterization. A lot of people like the looks of little twinkly lights, and I'm of the opinion that you fit the redneck stereotype only if those year-around lights are strung over a Christmas tree made of Bud Light empties tied together with baling wire. Not that there's anything wrong with that.
But what if you still have a Christmas wreath on your front door in April? What does that make you? Well, we're probably still rednecks, but not for that reason. Take a look...
Debbie discovered the nest and the eggs only after taking the wreath off the front door in preparation for putting it atop the credenza in our bedroom. I'm glad she did, as it would have made for an unpleasant surprise around June or so.
Anyway, she quickly rehung the wreath on the front door and the mother bird promptly returned to attend to the eggs. I have no idea if they'll hatch, as the bird flies off every time we walk by, and the eggs may not be getting their minimum daily requirement of feathered butt. I'll report on whether we eventually have a brood on our front door, or if we can finally switch over to a more appropriate seasonal entryway decoration.
I'm sure you're wondering, what kind of bird is it? It's a little gray one. Who do I look like, John Q. Autobahn?
Technical note: I filmed this using my little GoPro HD camera. It's perfect for maneuvering into tight spots you can't reach with a standard-size camera, video or otherwise, and it's auto-focus, good low light performance, and fisheye lens makes it a good choice for no-look close-ups. (In other words, I couldn't see what I was filming.)