Update (5/1): My pal Robert Thomas, a long-time Midland resident, provided the answer to the mystery described below. According to Robert, a couple of men named Ricky Patterson and Bobby Stevens built the facility "years ago," primarily for their sons to use as a practice facility. Robert also thought they let Midland College use it before Christiansen Stadium was built, and possibly also Midland Christian School. Thanks for the history lesson, Robert!
For the past few years, we've bicycled past a puzzling landmark. It's what appears to be a baseball backstop sort of in the middle of a pasture, with a couple of outbuildings of unknown purpose. We've never seen any vehicles nearby, or any activity of any sort, for that matter.
For you Midlanders, it's located near the southeastern corner of the intersection of Whitman and Mockingbird. It's not very noticeable from Whitman unless you're looking for it, and until Mockingbird was recently extended east to intersect with Garfield, you had to go off-road to get a better view of the parcel. Now that we're able to bicycle past it on Mockingbird, I'm doing some serious research into the nature of the installation. How serious? Well, I'm posting this question here, and on Facebook, and asking if anyone knows the history of the mysterious apparent playing field. You can't get much seriouser than that.
Here's a satellite view of the acreage in question, via Google Maps (and
here's the map link
if you want to zoom closer).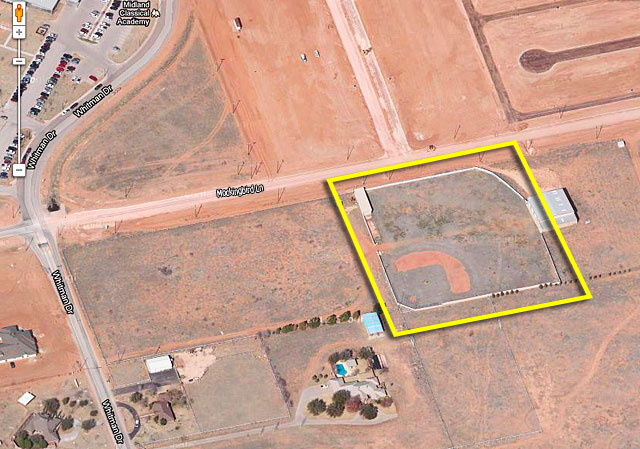 Was it a practice field for one of the local high schools? Was it the brainchild of
a Kevin Costner fan
? Did aliens land at night and create the equivalent of a baseball crop circle? Inquiring minds want to know, so leave your opinions, insights, conjectures, and lies in the comments.