During our recent visit to Fredericksburg, Texas, we caught a performance by Del Castillo, a band that was hitherto unfamiliar to us. The group was appearing at the
Crossroads Steakhouse & Saloon
, which is a relatively new (opened in early 2010) restaurant on Fredericksburg's main drag (across the street from Hondo's, if you're familiar with the area).
We had a very good (and high dollar) meal in the restaurant and then took a stroll before returning to the "saloon" part of the establishment for the musical entertainment. The band was supposed to go on stage at 9:30 but that was apparently just a loose suggestion, because it was almost an hour later before they appeared.
They were worth the wait.
We've seen Santana in concert, and Los Lonely Boys. Both groups are icons of Latin rock, and both provide high energy shows featuring blistering guitar work that borders on unbelievable. And in my opinion, Del Castillo merits having either of those groups as an opening act. That may sound musically sacrilegious, but only to those who haven't been to a Del Castillo performance.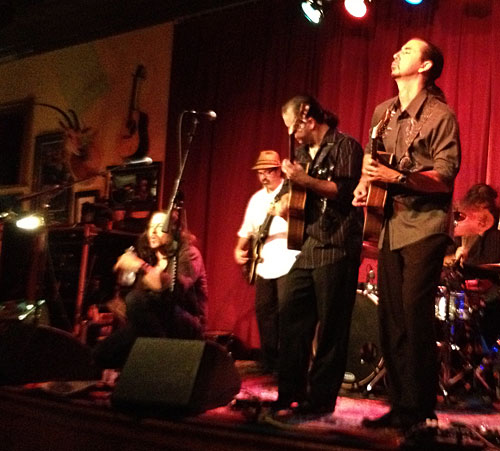 Sorry for the poor quality; it was the best my phone could do.
Brothers Mark and Rick del Castillo front the band and share the role of lead guitarist. They both play classical nylon-stringed amped guitars, but these are classical guitarists like no one you've ever heard. The following video showcases some of their talents (although this isn't a performance by Del Castillo the group; rather, it's an "all star" group, named
Chingon
, assembled by Austin filmmaker Robert Rodriguez - who is a pretty fair picker in his own right and introduces the song - but features the del Castillo brothers as well as their lead singer Alex Ruiz). If the song sounds familiar, it's
Malagueña Salerosa
, which was used by Quentin Tarantino in the soundtrack for
Kill Bill, Vol. 2
.
Electrifying as they sound in the video, they're even more so in person.
I was especially impressed with Rick del Castillo, who bears an uncanny resemblance to the British actor Alan Rickman: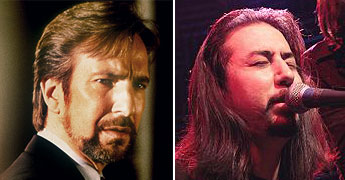 See, I told you so.
I was even more impressed to learn that Rick
graduated from Texas A&M
with a degree in biomedical science. He has something to fall back on if the music gig doesn't work out.
I don't think he'll ever need that sheepskin.
We had a great time in Fredericksburg, and sitting ten feet away from the band with only about a hundred other people, and getting to dance to some great Latin rock and blues right in front of the stage was a highlight of the trip. We finally had to call it a night though when the band told the bouncer to waive the cover charge and let in the folks who were listening from the sidewalk. This resulted in one couple doing their impression of "dirty dancing" - much to the amusement of the band, and horror of some of the other spectators - and I told Debbie that when the hookers take to the dance floor, that's our cue to take our leave.