Perspicacious Gazette readers Wallace Craig and Berry Simpson correctly identified
aerial photo numero dos
in this series as a view of
Guadalupe Mountains National Park
, home of the highest spot in Texas, and an irresistible attraction to hikers from around the country. The most obvious attractions are Guadalupe Peak and the imposing face of El Capitan, shown below. Neither looks too impressive from 28 miles in the sky, but the view from ground level is amazing, as is the one from the top of Guadalupe Peak.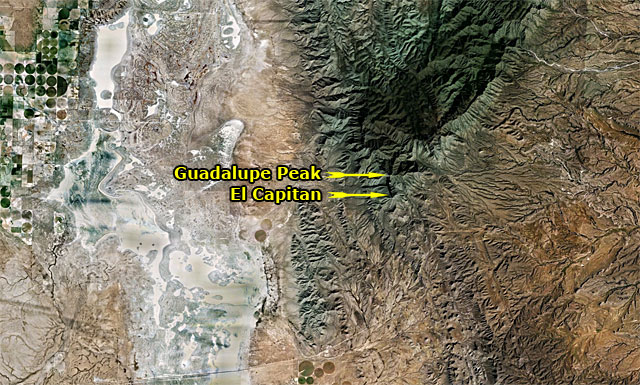 OK, the first two have been pretty easy, at least for most people familiar with West Texas. It gets a little more challenging now. How good are you at recognizing terrain from an altitude of almost 50 miles? Some people might wonder if this is even a picture of earth.
Click on the picture to see a larger version (opens in a new window or tab).