Loyal Gazette reader Joe Lee once again had way too much time on his hands and easily identified
aerial photo numero tres
in this series as a view of
Big Bend National Park
, which covers almost a million acres of the most starkly beautiful country you'll ever lay eyes on. Don't let the apparent desolation fool you; life abounds here. From the National Park Service's website:
Big Bend is famous for its natural resources and spectacular geology. The park is home to more than 1,200 species of plants (including approximately 60 cacti species), 11 species of amphibians, 56 species of reptiles, 40 species of fish, 75 species of mammals, 450 species of birds, and about 3,600 species of insects. The park boasts more types of birds, bats, and cacti than any other national park in the United States.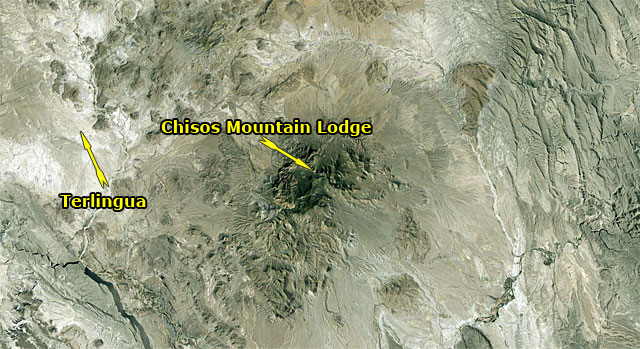 We continue our aerial tour of West Texas with another striking natural phenomenon. We get a little closer to earth than before, only about six miles up. This one should be a piece of cake.
Click on the picture to see a larger version (opens in a new window or tab).