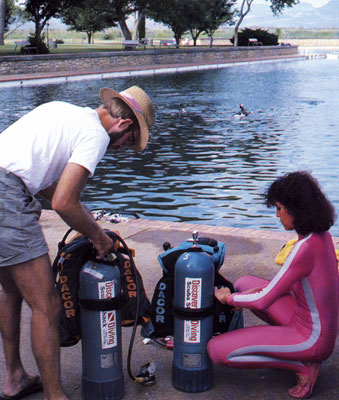 Gazette-crazy map mavens Paula McKinney and Les Blalock recognized the sixth photo in our series as
Balmorhea State Park
, which has the distinction of not actually being located in Balmorhea, but "Toyahvale State Park" apparently doesn't have the same cachet.
Every scuba diver in West Texas has cruised the crystal waters of Balmorhea. Debbie and I did our check-out dive there when we got certified, and have returned repeatedly to give our the gear the once-over before dive trips. One memorable trip had us surfacing to find a light snow falling; the spring-fed pool is a constant 72°-76°, and it was 40° warmer than the air temperature that day.
Another interesting bit of trivia (well, interesting for us, anyway). If you happen to have a copy of the August, 1988, issue of
Texas Highways
laying around, check out pages 30-31. They feature a particularly handsome couple intent on checking out their scuba gear. You're forgiven if you didn't recognize us in the photo above; Debbie was rocking her
Flashdance
look, and I had lost my razor a few years earlier.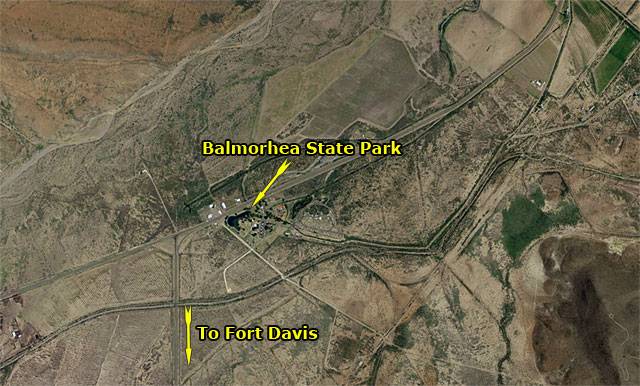 We're coming to the end of the series, and I must say that I've been impressed by your ability to ferret out the identity of famous features of West Texas. This next one is obscure enough that if you figure it out as easily as the previous photos, I'll have to consider the possibility that you've installed keylogger software on my computer. Have at it...
Click on the picture to see a larger version (opens in a new window or tab).