Yesterday's post
about the cheesy lawn animals apparently struck a chord with some of you fellow
rednecks
art connie-sewers. I'm happy to see there are other serious patrons of yard art out there. In particular, I enjoyed hearing from Dale Thompson, an intrepid Gazette reader who enclosed some photos of an occupant of his back yard, along with this narrative: "Of course this is an old photo with the green grass. Went with the old saying 'go big or go home.' Dragon's head is about 9 feet with a 12 foot wingspan. Be careful with yard art; it can get out of hand."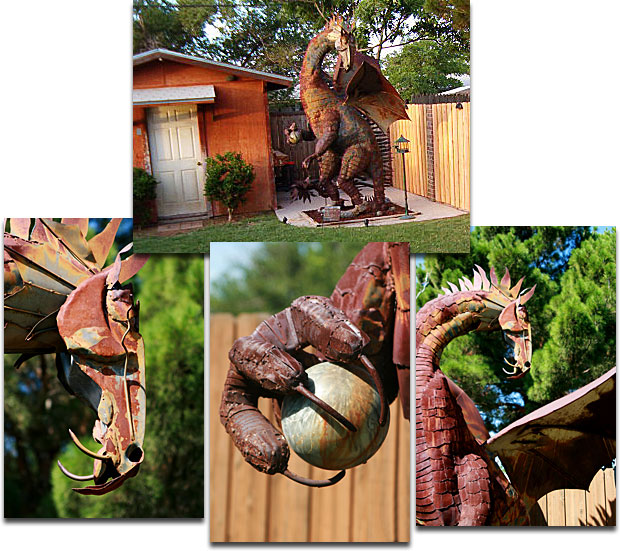 Is that awesome, or what?
Dale explained that his metal masterpiece is truly a work of art, created by a local artisan and entered in a show in Odessa where it won the People's Choice award.
His warning about things getting out of hand is well-heeded. But, sometimes, too big is just big enough. So I'm kicking myself for not bringing this bad boy home to throw down with the dragon: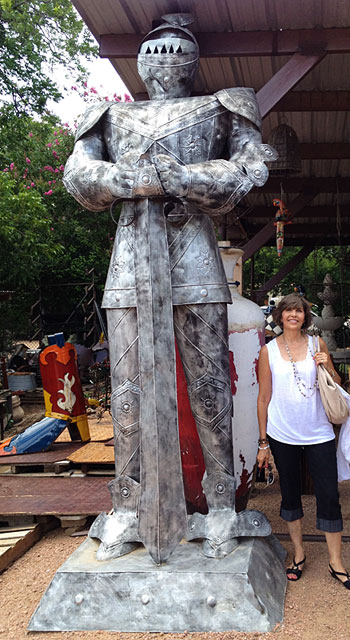 As
Daenerys
will testify, never count out a dragon...but an armor-clad 12-foot-tall knight with a big honkin' sword is also a force to be reckoned with.
It would have almost been worth the $600 purchase price to strap it into the bed of the Ridgeline for the trip home.