If you're seeking music that's a bit out of the mainstream, something that defies easy characterization, perhaps an album of story-songs, let me direct you to The Lost Dogs' 2010 album
Old Angel
, a musical tribute to "America's Main Street," Route 66.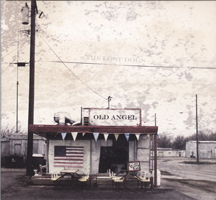 The proprietors of the iTunes Store haven't figured out how to categorize The Lost Dogs, but that's understandable. (By the way, if you search for the group's complete catalog in the iTunes Store, be sure to search on both "Lost Dogs" and "The Lost Dogs," as neither search term by itself yields complete results.) Their albums are evenly split between the genres of "rock" and "Christian and Gospel," and, in my opinion, neither does the music justice. Something like "alt-country Christian Americana rock" might be more accurate.
The songs in
Old Angel
tell stories about the people and places along the historical Route 66, and those stories span the decades from the days of the Dust Bowl to the present. You'll recognize landmarks, natural and manmade, in the lyrics (Missouri's
Devil's Elbow
and the
Cadillac Ranch
in the Texas Panhandle are two examples), and hear accounts of hope and desperation and restlessness, of peace and joy and redemption.
This is not an overtly Christian album - this may be the only "gospel" album out there where "damn" is used a couple of times as an adjective (and, again in my opinion, is completely justified, especially when describing the heat in Bakersfield, California) - but the spirituality of the musicians is evident throughout. Also evident is the outstanding musicianship and creativity. In fact, I recommend listening via a good set of headphones at least once to catch all the nuances of the performances.
Some of the past releases by The Lost Dogs are filled with irony and satire; Old Angel is not, notwithstanding song titles like Israelites and Okies. It's unabashedly sentimental about a piece of Americana and the people who traveled and continue to travel its length in search of a better life.
Here's a sample from the album, an amateur video filmed on a California beach, so it doesn't do complete justice to the music. But you'll get a sense of the musical gifts of the members of The Lost Dogs.