Attending the Happy Together Tour concert last week put me in a musical nostalgic mood, and I rediscovered these in my small Museum of Obsolete Technology: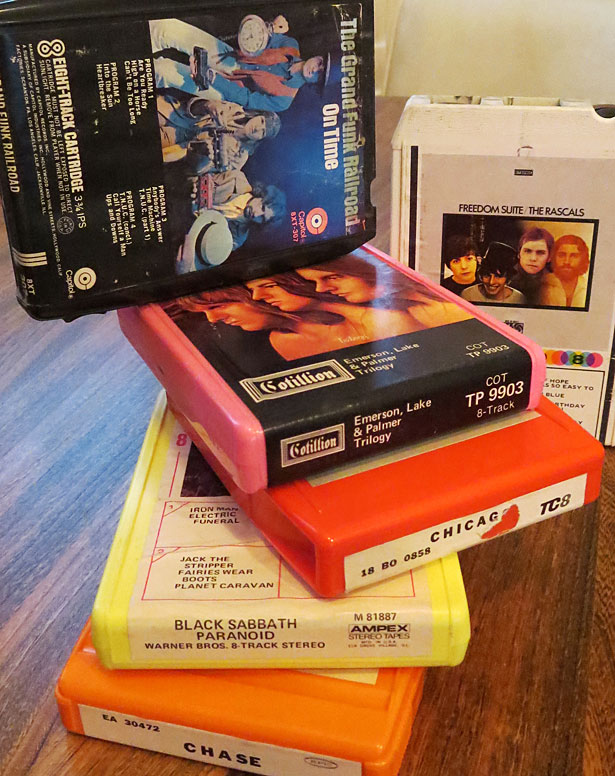 These are the only survivors from the dozens of 8-track tapes I accumulated during my high school and early college years. I'm not sure of the strategy behind the selection of these tapes, other than they represent a wide range of genres. For the record, I wasn't a Black Sabbath fan - I didn't even realize Ozzy Osbourne was a member until a few decades later; I think this was my form of rebellion in my small West Texas hometown of Fort Stockton.
However, I did love the jazz-rock genre, hence the Chase and Chicago tapes (although my favorite group in that vein remains Blood, Sweat and Tears). I also had multiple albums from Emerson, Lake and Palmer, and who didn't love the [Young] Rascals? Grand Funk Railroad was straight-ahead rock and was in good company with Jimi Hendrix, Cream, and Steppenwolf. (Of course, once I started dating, there was an interesting shift to artists such as The Lettermen and
Rod McKuen
(gasp!), and the soundtrack from
Romeo and Juliet
. Funny how those things work.
I mounted a Radio Shack 8-track player in the family's barebones late-Fifties Ford, which my parents won in a raffle at the local drive-in. The car had a straight-six motor, and the engine compartment had enough spare room to sleep in. Anyway, it didn't have a radio - heck, it barely had a glovebox - so the 8-track was the only musical option available at the time.
I bought a couple of speakers but never figured out how to mount them in the car, so they sat in the backseat floorboards. I did, at least, hide the speaker wires running from the dashboard to the backseat, preserving the classiness of the installation.
Nevertheless, there were many enjoyable hours spent listening to the music emanating from that player. I mastered the skill of coaxing tape back inside the case (some of you may remember how often those tapes came unwound), and recognizing when to swab the tape deck playback head with rubbing alcohol to remove the residue that built up over time and spoiled the otherwise pristine sound. Well, it was pristine compared to, you know, silence.
Confession: I'm still using an 8-track storage box, with the partitions removed, as a receptacle for small parts and doo-dads (a technical term of art) in the garage.
It's hard to believe that I now have 3,719 songs (including quite a few of those on the tapes pictured above) of significantly better audio quality available in device that's a quarter of the size of just one of these tapes. There are some things I'm nostalgic about, true, but going back to 8-tracks tapes isn't one of them.