Much to the chagrin of my professional musician friends, I don't usually buy albums. In the age of digital downloads, I pick and choose the songs I like best, and ignore the rest. I realize this is a symbolic slap in the face to those artists who put a lot of time and thought into crafting an album (although I secretly wonder why all that time and thought generally wraps up with an even number of songs...ten, twelve, or - occasionally - fourteen; does creativity abhor an odd number?). Nevertheless, it's rare that every song on an album resonates with me, and I feel no guilt in refusing to pay for those that don't.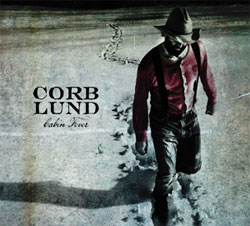 But I made one of those rare exceptions this weekend, when I ran across
Corb Lund
's
Cabin Fever
, an album released last August. I confess that I was actually seeking a single song that I'd been hearing on Sirius-XM lately, but I got to noodling around with the other cuts on the album and realized that there wasn't a stray in the herd.
If you were to combine the lyrical prowess of Randy Newman, the authentic cowboyishness of Chris LeDoux (rest his soul), and the utter defiance of any categorization of Willie Nelson, you might begin to construct a musician like Corb Lund. He's a Canadian who launched his musical career as the bass player for the speed metal band The Smalls (although
Lund disputes that musical label
as well).
In any event, I find the stories that Lund tells in his songs to be fascinating, although you have to listen fast because the guy can cram more lyrics into less time than any rapper in the hood. But beyond that, the music itself is imaginative and diverse. On Cabin Fever, he cycles through western swing, boogie-woogie, Marty Robbins-style balladeering, roadhouse blues, and straight out rock and roll, and throws in a few songs that can't be pigeonholed. And you can always detect a thread of dry, self-deprecating humor running through the lyrics, as if you and he are sharing an inside joke.
And he somehow manages to make yodeling cool.
I managed to find videos of three of my most favoritist cuts from
Cabin Fever
. Anyone who ever showed steers in 4H or FFA, or who owned and/or worked on a ranch will appreciate the sentiments of
Cows Around
. (There's
a live acoustic solo performance
of this song on YouTube and it's worth watching, but I wanted to showcase the overall musical prowess of Lund's band, the Hurtin' Albertans.)
Dig Gravedigger Dig
is an ode to an under-appreciated occupation; the video is a great showcase for Lund's sense of humor (it steals a scene from
Thriller
, for example). And, last but certainly not least,
The Gothest Girl I Can
seems to be dedicated to Abby on
NCIS
, and is guaranteed to make you want to dance.
If you can't resist the call of songs with titles like Priceless Antique Pistol Shoots Startled Owner (a cautionary tale about off-the-books firearm sales) and Mein Deutsches Motorrad (an ode to BMW motorcycles) - and, really, who can? - I strongly suggest downloading Cabin Fever and giving it a dozen consecutive listening.