We were leaving the house to head to church this morning when my eye caught something odd through the door that leads from our bedroom to the back porch.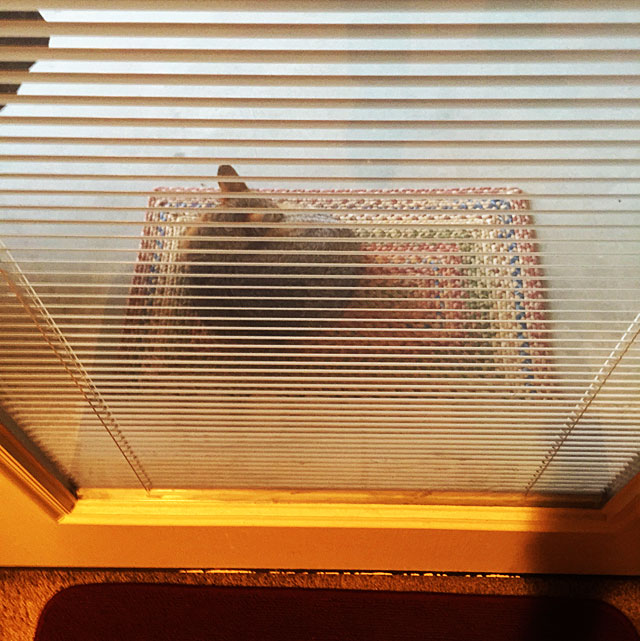 It's hard to make out from this phone photo, but it's a gray fox napping on the mat outside the door.
I opened the blinds a bit more to try to get a better view, but that disturbed his sleep and he slipped out of view. We went into the living room and watched through the shutters as he put his front paws up on one of the Home Depot buckets we use to catch rainwater, and took a long drink. I tried to video that, but the phone kept focusing on the shutters instead of the fox, so the result wasn't particularly dramatic or edifying. As we pulled out of the garage, we spotted him through the back gate. He was already resting comfortably in the grass, watching us leave.
I have no way of knowing if this is the same fox I've
reported on previously
, but it's been a while since we've had a visitor like this.
When we got home in the early afternoon, we checked the back yard and, sure enough, he was napping - foxes apparently aren't very energetic during the day - behind our rain barrel. I grabbed my DSLR and video camera and went fox hunting.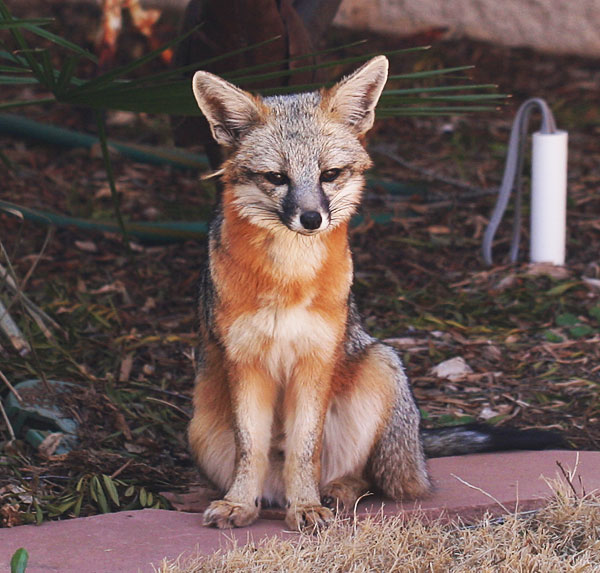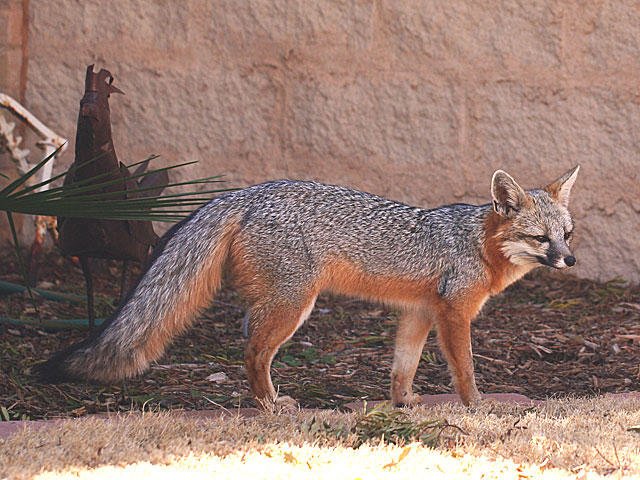 Following is four minutes of relatively non-action-packed Urocyon cinereoargenteus footage. For most of it, I was either standing or sitting less than twenty feet from the fox...who was at worst annoyed that I was interrupting his afternoon snooze. Lazy or not - I'm referring to the fox, although it could also be self-referential - I continue to be fascinated at the behavior of these animals, even as I worry that they might be getting too comfortable around humans. I don't think they're a danger to us, but I'm afraid that somebody might believe otherwise and try to harm them.
But, as the video shows, the neighborhood bunnies might need to take some precautions.