My favorite chair in the living room looks out onto the back yard where I get to see all sorts of interesting things (and it makes me wonder how much I
haven't
seen). Such was the case this morning.
As I was finishing my daily Bible reading a movement in the Mexican Elder near the back wall caught my eye. It appeared to be a bird that was building a nest, which I thought was rather odd for the season. So I went to the window to get a better look and realized it wasn't a construction project, but rather breakfast for a hawk.
Unfortunately, he had positioned himself in such a way that I couldn't get a good look at the object of his ingestion, although every now and then a feather floated down, so I assumed he was dining on an unfortunate dove.
I hurried to my office, grabbed my camera and swapped out the prime lens for a zoom, bumped up the ISO to 400 to account for the shadows, and started snapping photos from the back porch, trying to be as inconspicuous as possible. I hoped that I was as obscured from his vision as he was from mine. These were the best I could get.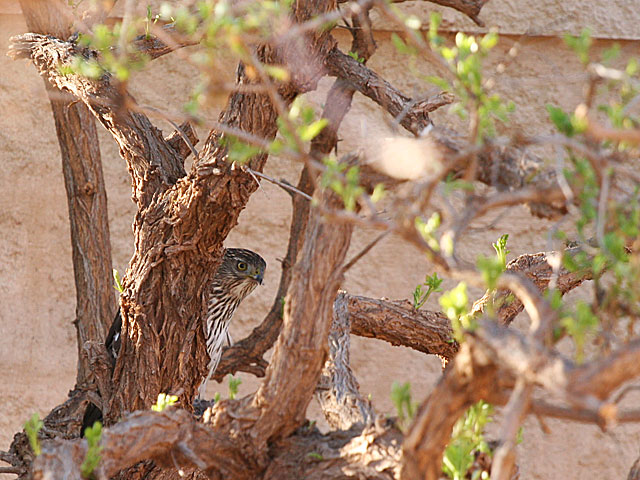 The hawk finally tired of my attentions and flew away, still clutching his breakfast. I attempted to get some action shots but ended up with nothing but bricks and blue sky. However, this did seem to confirm my theory about his menu selection, as it rested on the ground underneath the branch where the hawk was perched:
On a somewhat related note, as I was running through the pasture yesterday evening, I scared up a large covey of quail...probably twenty or thirty birds exploded into the air in various directions. Almost simultaneously with that, a hawk swooped through the scattering flock, and I wondered if he had had one in his sights just as I startled them. However, he showed no interest in following any of them, so I decided he was just messing with their tiny little heads. I'm pretty sure that's what hawks do for fun.
In closing, to take your mind off that poor dove, here's some extreme cuteness.