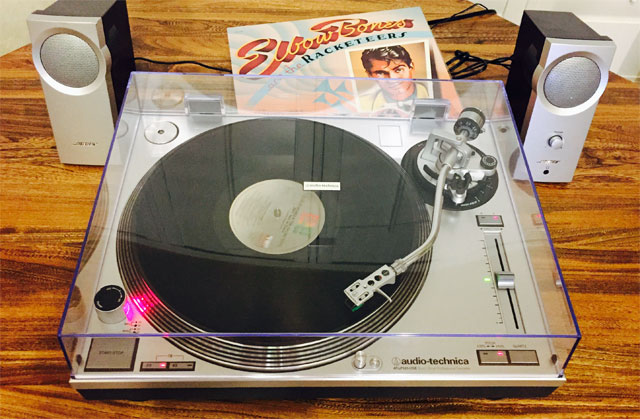 This arrived from Amazon yesterday afternoon...my first new turntable in, oh, about three decades. It's an
Audio-Technica AT-LP120-USB direct drive model
, and it's pretty awesome, considering my rather modest needs and expectations.
We have a turntable but it has a few shortcomings. First, it doesn't play 78 rpm records; more about why that's important in a moment. Second, it doesn't have an integrated pre-amp, meaning that it must be connected to a receiver or amplifier with a phono input. And, finally, it doesn't have USB connection capability (that should be obvious, considering that USB didn't exist in the mid-80s).
I chose this model primarily for a combination of features (all of the above) and price (I could have spent a lot more, but I'm not an audiophile and this turntable will see limited use). And I had two reasons for wanting a new turntable. I want to digitize my record collection. It's not extensive - maybe 200 albums - but it does have some sentimental value, and there are some songs that seem to be unavailable through the normal online channels. The album shown in the photo is a good example. Elbow Bones and the Racketeers had one hit in the 80s, A Night in New York, and the album where it resides isn't available in digital form on iTunes or Amazon.com.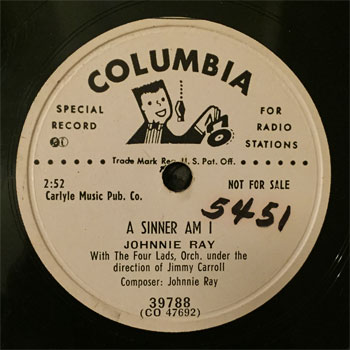 In addition, while packing my father-in-law's household possessions in preparation for his move to a new home, we ran found
about forty
twenty-four 78 rpm records, 10" in diameter which is smaller than the 33 1/3 rpm LPs we're accustomed to seeing, and neatly organized in sleeves in two binders. The labels on most of these records say "Sample Copy - Not for Sale" or "Special Record For Radio Station." They appear to be demo records, each containing one song, provided by the recording studios for radio airplay, and my FIL has no recollection as to how they ended up in his possession. Based on some quick internet research, they seem to be from the period 1950-1952. I don't think they are collector's items, but I would like to listen to them and capture some or all of the music in digital format. So, I need a turntable that will play 78s and also easily connect to a computer.
This turntable meets those needs and more. It also has tone-arm weight, tracking, and height adjustment capability, variable pitch control, and reverse mode (so I can reality-test the presence of all t
hose purported Satanic messages on various records
). Admittedly, the pitch control and reverse mode are nothing I'll ever use, unless I plan to become a DJ in my retirement years, but they're still fun to experiment with.
And, finally, the turntable has a switchable line-out/phono-out output so that I can connect it either to my A/V receiver or to powered speakers (as shown in the photo) or a computer (via the aforementioned USB connection).
What it doesn't have is auto start/stop. You have to manually place the needle on the record and then remove it at the end of playback. AT makes a comparable model with the auto capability, but I didn't want to pay the extra money.
This is also the first record player I've bought that required assembly after unboxing. The stylus, counterweight, platter, and pad all had to be installed, and then the tone-arm balance and tracking had to be adjusted to meet the specs of the stylus (2 grams weight recommended, if you must know). The documentation of the steps for doing all of this was quite clear, in direct contravention of the international standards for stereo instructions. And accomplishment of these tasks gives me the appearance of an audiophile without needing any actual competency.
The unit ships with the free, open-source sound editor
Audacity
which can be used to clean the digitized sound by removing the clicks and pops that plague vinyl. It also has some special capabilities and a recommended workflow for recording and cleaning sounds from 78 rpm records. This is more complicated than you might think; well, at least it's
more complicated
than I expected.*
However, before I can begin the digitizing process for the 78s, I'll
need a new stylus
. Styluses (aka "needles") for modern 45s or LPs are narrower and will damage the grooves of 78s, as well as pick up more surface noise than usual. 78s also usually require a heavier tone-arm weight to properly track. So, I've ordered
this stylus
from LP Gear that's specifically designed to fit the AT cartridge that came with the turntable. It's also designed for a slightly lower tracking force than many 78 styluses and I think that will help to extend the life of the records.
My ears aren't discriminating enough, nor is my A/V system sophisticated enough to discern the legendary "warmth" of vinyl-based music (vs. the alleged "coldness" of its digital manifestation), but there's something about the physical interaction with the medium that's pleasantly nostalgic. It's similar to the difference between holding a printed book vs. reading it on a Kindle or iPad. It's not necessarily better, but the differences are worth preserving, even if for reasons that aren't entirely logical.
*Between the time I started writing this post and when I actually published it, the new stylus arrived and I installed it and tested it with the 78s; it works perfectly. I've also installed and configured the software and connected the turntable to my Mac Pro, and that is also working well. Stay tuned for some audio samples!