One of the things I hinted for at Christmas was a Bluetooth speaker. I often like to have music going while working in the yard or the garage and while both porches and the garage have wired music capabilities, I like the idea of being able to remotely program the tunes.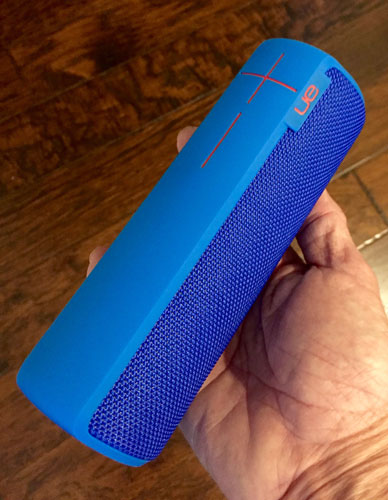 I didn't have a specific brand or model in mind, and I really wasn't looking for anything too expensive or high fidelity (I guess that's redundant, huh?)...I just dropped the hint to MLB one weekend while we were shopping in San Antonio. She immediately disappeared into the nearby Apple Store, and on Christmas Eve I found myself the happy owner of an
Ultimate Ears Boom 2
.
This cylindrical bit of audio technology is exactly what I had in mind, even though I had nothing in mind. It's got a great sound - enough to fill a big room - and it links to (and is controllable by) my iPhone, iPad, and home computer. It's rechargeable via USB, and the battery is rated for fifteen hours (I have yet to test that). Other thoughtful touches include a tripod mount and an audio-in connector in case you want to use it with a non-Bluetooth system.
And here's the icing on the cake: it's waterproof (down to ~3' for 30 minutes). I don't plan to take it into the shower, but it would be an awesome addition to a long paddleboard session on the lake. At 7" in length and weighing just over a pound, it's easy to transport. We could easily strap it to our bike, as well.
I mentioned that the speaker is controllable by a variety of devices. This is done via installation of UE's free app, and the capabilities extend beyond on/off and volume control. The app provides an equalizer feature to fine-tune the sound and an alarm function that allows you to wake up to selected songs, albums, genres, artists, or playlists. It also provides access to something called "Block Party" that lets up to three devices alternate feeding music to the speaker, presumably in a party setting. (I'm too much of a control freak to have much use for this, however.) And, finally, the app allows firmware/software updates. Note, however, you can also do this via a computer via USB connection.
You can also stream to two Boom 2s (Booms 2?) from the same device, if you want to invest more money. This won't provide stereo capability; the sound from each is omnidirectional. But it would provide multi-room capability, as well as more volume.
I'm pretty enthusiastic about this speaker, so if you're also in the market, take this as a recommendation. Oh, and did I mention that it makes a groovy bongo sound when you turn it on?