As I drove home after work yesterday, Mojo Nixon was interviewing
Mickey Raphael
on Sirius XM's Outlaw Country channel. I'm not a big fan of Nixon's work, nor do I usually listen to anything but music in the car, but I was intrigued by the subject matter. It seems that a
new boxed set of music and video from The Highwaymen
was released in May, and Raphael - who you might recognize as Willie Nelson's harmonica player - was talking about his experiences playing with Johnny Cash, Waylon Jennings, Kris Kristofferson, and of course, the Red Headed Stranger. It was fascinating stuff from an insider's perspective.
In the course of the conversation, Raphael mentioned that a documentary about The Highwaymen had recently aired on PBS and is available for streaming via its website, so later that night I began to watch it. I found the video, entitled
The Highwaymen: Friends Till The End,
under the American Masters category (or you can
just click this link
), and it will be available for streaming only until June 25, 2016. If you're a country music fan, or simply interested in American popular music history, this is a must-see documentary.
The Highwaymen
are credited as country music's first "supergroup"* although Cash was probably the only member who landed firmly in the middle of the traditional country music genre. Regardless of where you slot them in terms of music, all four are legends whose influences are far-reaching, and the claim that the roots of the so-called Outlaw Country genre began with them is hard to dispute.
The documentary traces the evolution of the group from its inception (the four first united during one of Cash's Christmas specials for TV, filmed in Montreaux, Switzerland) until its disbanding a decade later, in 1995. Jennings died in 2002 and Cash a year later. Kristofferson and Nelson are still active, although the former--who will turn 80 this month--is battling memory loss even as he continues to write and record.
Along with concert footage and interviews with the principles, the documentary features a great cast of supporting characters including:
John Mellencamp (who competed with Prince and Sean Combs for the most stage names); Mellencamp has collaborated with Nelson to produce Farm Aid for 30 years


Marty Stuart (who competes with Mellencamp for the most awesome hairdo)


Ray Benson (Asleep at the Wheel frontman)


Toby Keith


Jessie Colter (Waylon's wife), Annie Nelson (Willie's fourth and current wife), and June Carter Cash (Johnny's wife)


and several of the other musicians who backed the group.
Gene Autry, one of Willie Nelson's heroes, also makes an appearance.
The documentary provides a brief biographical intro for each of the four, with some great archival footage and photos (witness the clean-cut, pre-outlaw images of Waylon and Willie below). It explores the special bond that the four formed over their shared music...and trials. They each took a shot at success in Nashville, and found it was, well, let's say it was not to their liking. They chafed at the country "establishment" that controlled the music business, so they either left and made their own way, or stayed and through sheer force of will (and talent) bent the system to their own visions.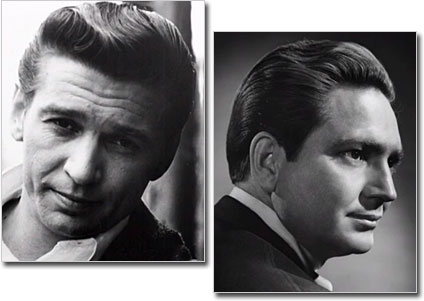 Waylon and Willie - The early years
The video doesn't shy away from the seamier sides of their lives, especially the struggles with substance abuse that Jennings and Cash fought (and eventually conquered). They also shared health problems; at one point, both of those men were hospitalized at the same time after heart bypass surgeries. We learn that Cash was in almost constant pain during his time with the group, thanks to a broken jaw suffered during botched dental implant surgery.
But they all had a spiritual side, and while the details aren't fleshed out in the documentary, you get the sense that they each had finally faced down personal demons, and their friendship and mutual support provided a calm and sense of peace that was perhaps missing for most of their lives. I had the distinct impression that had health not failed, they would still be happily making music together.
I've seen Willie Nelson in concert, but I never got to attend a show with the other men. Thankfully, through efforts like this documentary and the new recordings and videos, we won't miss out on some truly historic musical performances, and it's not likely a group with such charisma and talent will pass this way again.
*The term "supergroup" is used as a pretty wide net, encompassing musical acts as diverse as Cream, The Three Tenors, and Emerson, Lake & Palmer. It's a dubious appellation, and I apply a stricter definition than, say, Wikipedia. The Highwaymen definitely fit my definition (as do acts such as The Traveling Wilburys [George Harrison, Bob Dylan, Tom Petty, Roy Orbison, and Jeff Lynne] and the Texas Tornados [Freddy Fender, Doug Sahm, Flaco Jimenez, and Augie Meyers]), in which band members who each have a separate active and successful career come together for a limited time to tour and record, and then return to their primary careers.