It's no secret that the Texas Hill Country is akin to Ground Zero for the state's live music scene. Austin is the mother lode for gifted musicians, but it seems that every surrounding town also has its own homegrown talents, and that translates to a lot of dancing opportunities.
I've already reported on some of
our favorite Hill Country dance venues
, which almost exclusively feature country music. MLB and I have enjoyed many country dances during the three years we've been transient residents headquartered in Horseshoe Bay, but we've not been able to replicate the
active ballroom dance scene
that we have here in Midland. I'm happy to report that we've made a couple of recent discoveries that significantly changes that situation.
The Flashbacks Big Band - Kingsland
A couple of weekends ago, our friends Doc and Sharon invited us to attend a Saturday night performance of
The Flashbacks Big Band
in the Kingsland Convention and Community Center [which is a pretty highfalutin label for a facility located in a town of 5,000 residents]. The promotional material billed it as a free concert and a dance, but we had no idea about how suitable the venue or music would be for dancing. Boy, were we pleasantly surprised!
According to the website, the
Community Center
includes a 4,900 square foot meeting hall, which is quite spacious...depending on the actual setup. As it turned out, the space set aside for dancing was more than adequate for the attendance. There were about 75 people present, but with 40 of them being members of a Sunday School class from a Baptist church in Marble Falls, the number of dancers was much lower.
(1)
(2)
At any given time there were at most ten couples on the dance floor.
The Flashbacks were a revelation as well. Sixteen skilled musicians played classic ballroom dance tunes for three hours, with a sound as polished as anything you'd find in large cities. They're the real deal.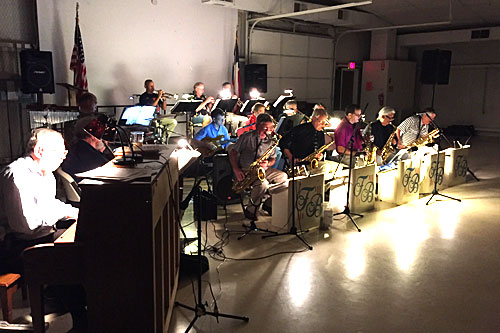 If you're a dancer, there are a few things to keep in mind. There's no food or drink available at the Community Center, but you're free to bring in anything you like. The floor is vinyl and a bit tacky, so leather- or suede-soled shoes are a necessity; apart from that, however, it's a really good dance floor. The dancers we saw that night were older, enthusiastic, but not really tuned into dance etiquette (one couple insisted on occasionally dancing clockwise around the floor, in opposition to everyone else). Dress is casual.
Also, the music skewed heavily toward fox trots and swings; don't expect to get much Latin dancing done. The band will take requests, but only for songs they've recently practiced, so don't be surprised if the response is "we'll make a note of that for next time." Finally, while there is no admission charge, tipping the band is encouraged because they are actually paying for the rental of the facility. My personal recommendation is to tip the same amount you'd expect to pay for a formal dance elsewhere.
The Flashbacks play at the Kingsland Community Center on the first Saturday of every month, 7:00-10:00 p.m.
The Republic of Texas Big Band - Lakeway
Lakeway is a thriving suburb of Austin, and the city's Activity Center is a multi-purpose facility featuring several meeting rooms and banquet halls. The banquet rooms can be configured several ways, with the largest layout being 3,675 square feet...again, potentially more than adequate for dancing.
Since this was our first visit to Lakeway and we weren't sure where the facility was located, we were among the first to arrive and thus picked out a table next to the dance floor. There were enough tables set up to accommodate well over a hundred people, but about half that number actually showed up...including a contingent from a local nursing home. Again, this was primarily an older audience, although there was a sprinkling of younger (i.e. 30-40 years) folks.
However, there were many more dancers in attendance than at the Kingsland event. We sat out several dances because of the crowded conditions. The dancers also tended to be a bit more accomplished than at the other venue. As at Kingsland, dress is casual.
The ROTBB was at least equal to The Flashbacks in musicianship (I noticed that one musician was a member of both groups), and had both male and female vocalists who were simply awesome. Their repertoire was slightly more varied, but still heavily tilted toward fox trot and swing tunes.
Again, this is a free monthly event - it's been taking place for five years - and it's strictly BYOE (bring your own everything). The floor is also high-end vinyl and well-suited for dancing provided you have leather- or suede-soled shoes. Tips for the band are encouraged; in fact, someone carries a bucket around to each table during one of the breaks to make sure everyone has an opportunity to make a tangible expression of appreciation. Unlike the Kingsland event, the band plays for two hours.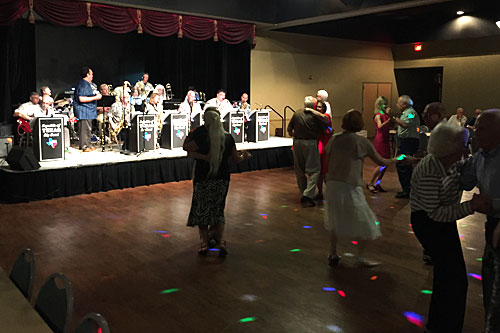 My one suggestion for improvement is that the dance floor could be expanded by removing a row of tables on each side, although I'm sure it's difficult to predict attendance at a non-RSVP event like this. But considering the overall quality of the venue and the music, this is a rather insignificant complaint and is not a factor for future attendance.
By the way, the ROTBB makes occasional appearances at
The Oasis on Lake Travis
, a big honkin' restaurant and bar best known for its views of sunsets over the lake.
The Republic of Texas Big Band plays at the Lakeway Activity Center on the second Monday of every month, 7:30-9:30 p.m.
In summary, following several years of wandering through a virtual ballroom desert, we discovered in one three-day stretch that there's a life-sustaining musical stream literally minutes away. Country music may rule the Texas Hill Country, but big band music hasn't faded completely away.
(1)
The reader should not be misled; not all Baptists are non-dancers, this writer being a prime example. [Return]
(2)
It so happened that we attended services at that church the next morning, and we were greeted by a couple of people with "you're the dancers from last night, aren't you?"...in a purely non-judgmental way, of course. [Return]