I received a game camera and wireless modem for Christmas and I'm impressed with both so far. The
M-888 Mini Game Camera
, branded by Moultrie (a company perhaps better known for its game feeders) features a 14 megapixel sensor, 100 foot infrared flash range for night photography, 50 foot motion detection range, and 720p video capability.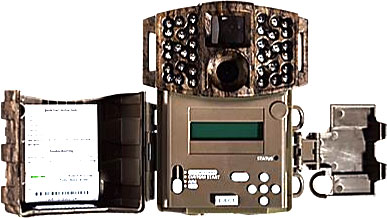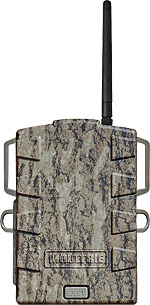 When you pair the camera with the
Moultrie Mobile Wireless Field Modem
(photo at right), you can monitor photos and adjust camera settings remotely via Verizon's 3G cellular network (if you plan to use it in an area which Verizon doesn't serve, it will function only as a paperweight. Also, if you're already a Verizon cell phone subscriber, you can't use that service; you must subscribe separately via Moultrie. Sorry). This obviously requires a subscription, the price for which varies according to expected data usage. I'm using the most basic plan, good for an estimated 750 photos/38 megabytes per month, priced at $9.99/month. The plans range up to $50/month for 500mb/10,000 photos, in case you live in a zoo. Moultrie also offers a "maintenance only" plan for $4.99/month that allows you to remotely view and adjust camera settings without accessing the photos.
The camera and modem setup was relatively simple. I did have to make one quick phone call to Moultrie's customer service, and by "quick" I mean that it took the woman on the other end of the call approximately 12 seconds to identify the problem and inform me that I was an idiot who probably wasn't qualified to operate a sophisticated piece of equipment like a kitchen match, much less a fancy game camera. OK, she was much more diplomatic than that, but I'm sure I've made the Moultrie Dumb Customer Support Hall of Fame for my failure to click a single button on the setup website that would have made the equipment positively sing with success.
Anyway, once the camera and modem were on speaking terms with one another, and the modem was also schmoozing with Verizon's system, the only remaining task was to find a suitable mounting spot.
I also failed miserably in this task.
My goal for the camera was to catch some of the wildlife that has migrated through our Horseshoe Bay back yard at night, but what I've succeeded in doing is photographing ALL of the car and truck traffic entering and leaving the neighborhood. I realize that in theory this doesn't sound very interesting, but the reality is that it's even less interesting than that. However, the one camera setting you can't control remotely is where the dang thing points, so until I can make it back down to HSB, I'll spend all my data on vehicles (and the occasional squirrel).
On a more positive note, the photos are good quality, even if they're boring. And I'm very impressed with the capabilities of
Moultrie Mobile
, the website and mobile app (iOS & Android) which function as the command centers for managing the camera, photos, and all associated settings. (By the way, you can click on the following screen captures to see a bigger image.)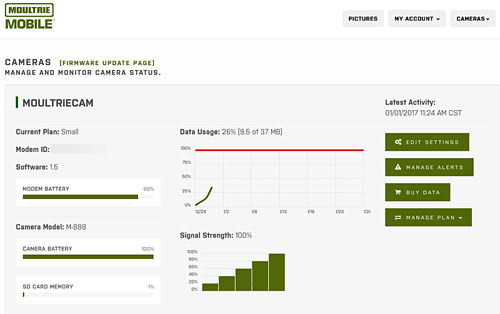 The photo viewport functions basically like any photo management software, allowing you to view, tag, filter, edit, delete, and share photos. The camera automatically tags each photo with metadata such as temperature and moon phase (not as weird as it may seem; use it to correlate wildlife behavior). There's also a placeholder for barometric pressure, but it's blank on all of my photos, which either indicates a remarkable meteorological anomaly or a feature reserved for a different model of camera. I'm pretty sure the latter is the more reasonable explanation.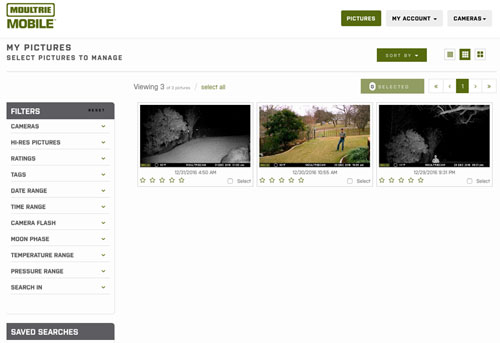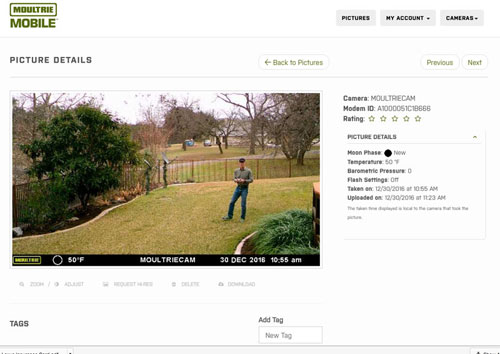 The most impressive feature of both the website and the mobile app is the connection to Adobe's Creative Cloud "ecosystem," which provides a full set of editing tools with which to tweak your photos. It's not quite a full Photoshop experience, but it's pretty close, offering adjustments such as cropping, color saturation, sharpness, contrast, brightness, selective focus (which is actually selective blurring, but that's splitting hairs). You even have the ability to remove redeye, in case you photograph any demon-possessed deer. There's also an adjustment called "Whiten," represented by a toothbrush, the purpose of which remains a mystery. I mean, you DO use it like a brush to make the picture, well, whiter, but the "why" of it escapes me. (Later edit: It does seem to allow you to make some selective adjustments to contrast, which is somewhat helpful in bringing out details in nighttime photos.)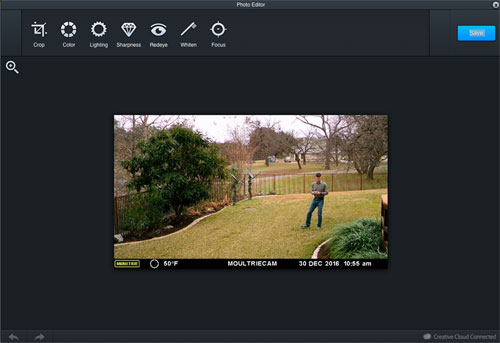 In summary, I'm far from being an expert on game cameras, and this one is probably going to end up being used more for security monitoring than wildlife spying, but the capabilities of Moultrie's integrated system are impressive. And I'm sure that once I can point the camera somewhere other than at the road across the fence, there will be more interesting things to view.