I'm in the process of scanning several hundred slides taken primarily by me and my father-in-law, some of which date back to the 1950s (those are his, not mine; how old do you think I am, anyway?). I'm discovering a few things, and recalling more than a few that I had forgotten.
Many of the photos have no apparent context. Most slides were stamped with the date of processing, but that only tells you when the photos may have been taken. Some of the locales of the vacation photos are recognizable, but others are not. We vacationed a lot in the mountains of Colorado and frankly, after thirty or forty years all those mountains look alike. Never underestimate the power of tagging your photos, people.
I was also a pretty lousy photographer. Most of my photos were taken with a
Konica FS-1
SLR which I purchased in the Dallas area in the late 70s/early 80s. It was a pretty revolutionary camera at the time, one of the first with a built-in motor drive, and I was enamored by the technology. But, looking at the photos I took, all that technology did was enable me to take more bad pictures in a shorter amount of time. (I still have that camera, by the way.)
I apparently had no concept of
fill flash
, although it's conceivable that all the human subjects of my photography were in the federal witness protection program and I was doing my best to conceal their identities. And there's only so much Photoshop can do to bring those faces out of the shadows.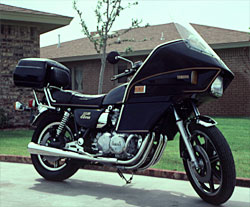 But, no use crying over spilt milk, or underexposed slides. I've also run across some interesting (to me) additions to the
Historical Documents
, including a number of glamour shots of my beloved
Yamaha XS-11
motorcycle, which I bought in Dallas in 1979 and sold in 1983 after moving to Midland. I also discovered pictures of my wife as an infant (if you look up "chubby baby" in the dictionary, you'll see a photo of...well...never mind). Those are basically priceless.
Then there are the photos like the one shown below, documenting...random stuff. This one shows what passed for a home theater in 1982, or at least the one in our home.
The "A" portion of our A/V system consisted of vinyl (everything old is new again, right), and the "V" was VHS tapes streamed onto a humongous 23 inch TV (a step up from the 19 incher that was burgled from our house in Garland a couple of years earlier). I suspect those of you of a certain age can identify with this setup, but if you want more details, just mouse over each component in the following photo. Be sure to check out the leftmost video tape on the bottom shelf of the cabinet. (This also gives me a chance to geek out about a new bit of software I found called
Image Map Pro
that lets me create cool stuff like this.)