Note: For reasons to be revealed later, you didn't see this post. In fact, once you're finished here, please extract your memory and destroy it, Mission Impossible-style. Thanks for your cooperation.
Note 2: I conceived the title for this post when I briefly woke in the middle of the night, one of the few times I remembered an idea the next morning. When I told MLB that I had an idea for the title - thinking she would be amazed by my awesome creativity - she immediately said "Armadillo by Morning?" See what I have to deal with?
Armadillos have become the bane of my existence. Our initial reaction to their presence in our back yard was "aww...how Texan and cute are they?" has given way to "would the neighbors really complain about the use of one tiny tactical nuclear weapon?" The damage they're doing to our lawn does have the appearance of a heavy shelling, as evidenced below. This is only one of about twenty such divots these animals are creating during their nocturnal searches for worms and grubs.
Disclaimer: I don't actually bear any animosity toward armadillos. They are, of course, the unofficial state mammal of Texas, and I'm as illogically fond of them as the next Texan. They can't help doing what they do, just like some politicians. If you've never encountered an armadillo, here's
a somewhat winsome overview
courtesy of the Texas Parks and Wildlife Department.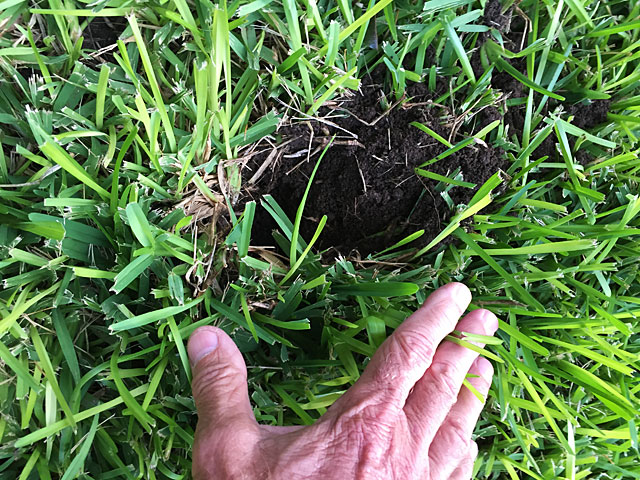 I'm not the only resident of Horseshoe Bay with this problem, and a tip from another victim led me to the online home of
The Armadillo Trap
, which is the name of both the creator and the creation. Based on the enthusiastic recommendation of the aforementioned tipster, I quickly parted ways with $94.95 plus S&T for the scented version, which is touted as being far superior to the unscented alternative.
Here's what the trap looks like, after some minor assemblage. The stick dangling on a string in the hole in the top of the trap is the trigger. It extends into the body of the trap and when the animal contacts it, it pops loose, dropping the two end pieces and forming an inescapable trap.
This is a view of the inside of the trap, showing the trigger described above. Incidentally, I don't know how they managed to impregnate the interior with armadillo scent, or even how they came to possess armadillo scent, and I don't want to know. (A certain scene from The Lost World: Jurassic Park comes to mind.) What I do know is that it's a vaguely nasty odor, unless you're an armadillo, then it's apparently Chanel No. 5.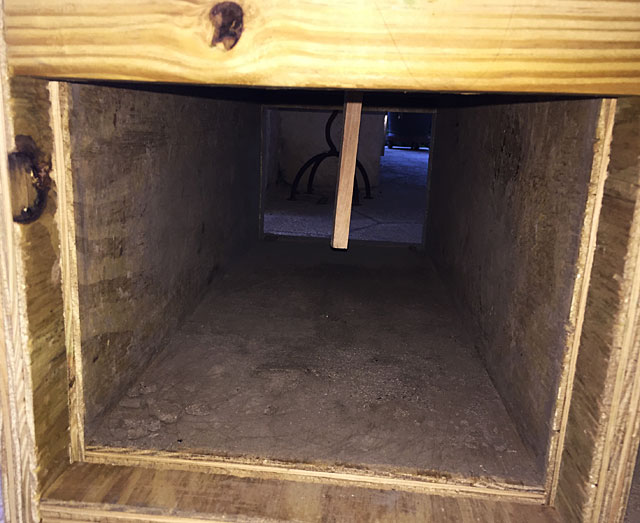 The instructions said to place the trap in an "obscure and shaded area." I dutifully ignored those instructions and put it where we've seen armadillos partying, as shown below. (If this spot looks familiar, it's also the location of the infamous
Dead Possum Raking Incident of 2017
.) I figured if armadillos navigate by scent, and if the trap's scent is alluring as they claim, any place in the back yard will work.
Having set the trap, we retired to our slumber, nervous as kids on Christmas Eve. Would we wake to goodies or coal in our stockings? Would there be mourning or dancing? Would I ever give up on finding a decent metaphor?
We were not disappointed. The trap was sprung sometime during the night, as you can see below. However...
Here's the list of animals we've seen in or around our yard: raccoons, possums, foxes, deer, squirrels, skunks, snakes. I'm pretty sure we couldn't trap a deer in that box, but all of the others were somewhere on a trendline ranging from possible to doubtful. I wasn't about to open the trap until I knew what was inside.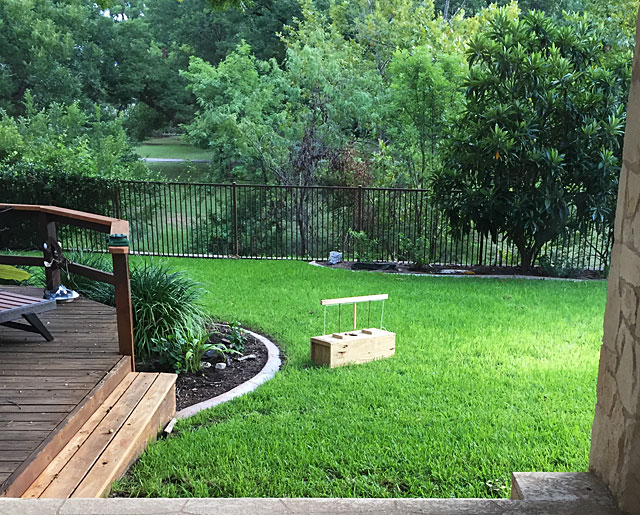 Fortunately, the hole in the top of the trap permits a quick peek at its contents, and this was definitely the shell of a nine-banded armadillo.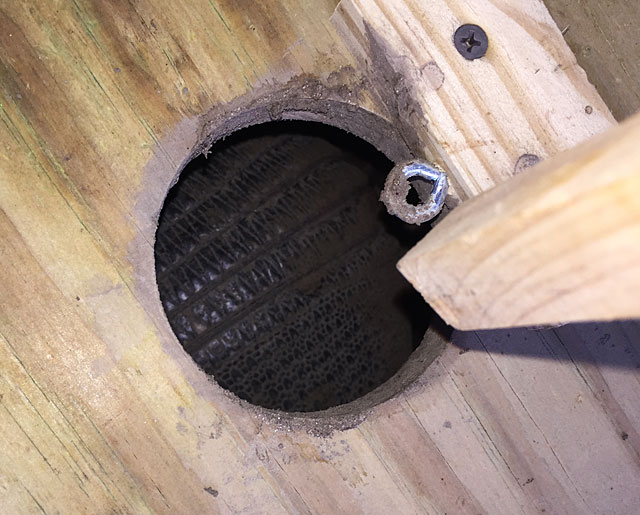 The obvious next question: what do you do with a trapped armadillo? I had conducted exhaustive research on my options, consisting of skimming the first ten results returned on Google. Some websites say that it's illegal to "transport and relocate" armadillos in Texas, but the Texas Parks & Wildlife Department is the governing authority on such matters,
and its website
says only that "live armadillos may not be sold." (Nevertheless, out of an abundance of caution, please refer to the introductory note.)
What I did not want to do is burden another neighbor with my armadillo deportations, so I picked an obscure (there's that term again) and undeveloped area and performed the second part of the "catch and release" program, as shown below in the professionally filmed sequence courtesy of MLB.
It took a bit of coaxing to dislodge the animal. Armadillos sleep 18+ hours each day, and they apparently can drop into a deep sleep anywhere. But as you saw, once the alarm goes off, so do they.
I trust that this specimen has found its new environs to its liking, but the important thing is that it never shows its grubbing little snout in our yard again.
If you are being bullied by armadillos, this trap seems to be the real deal, and gets the coveted Fire Ant Bite of Approval. (OK, I just made that up, but it it a very sincere construction.)
Update: The next night, we trapped another 'dillo. Unfortunately, another one that was rooting around in the grass eluded my [very tentative] attempts to catch it by hand. I'll see you tonight, amigo!