I haven't had much activity on the game camera lately, possibly due to the fact that the batteries were dead. Once I figured that out, I replaced them and set the camera on a step on our back porch, facing out into the yard.
When I downloaded the images this morning, there was our neighborhood skunk, taking his usual stroll from one side of the yard to the other. A possum also made an appearance -- and somehow managed to bump into the camera while meandering around. These things were interesting, but not too exciting.
But the last clip was a whole other thing. It started out in a boring fashion; I couldn't even discern what had triggered the camera. But about 15 seconds in, something...weird...occurred.
In this case, a thousand video frames are worth a hundred words, so take a look for yourself.
So, any ideas about that that last flurry of activity might have been? I've watched it a couple of dozen times and I still have nothing but a cockamamie theory. Don't laugh, but here it is: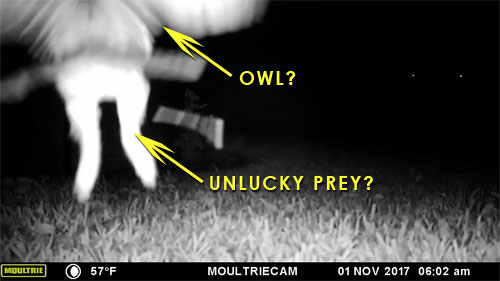 We do have owls in the neighborhood, and the wings on this UFO could belong to one of them. What I can't tell for sure is whether what looks like dangling feet belong to a second creature (in the claws of the first one), or if they're very poorly photographed bird's feet.
If the former theory is correct, the question then becomes -- what did the owl capture? If we were in West Texas, I'd quickly guess a rabbit, but we've never seen one in these parts. It's a mystery, for sure.
I understand
The X Files
is
returning to television
. If they're in need of an episode plot, this is a good place to start. The truth is out there...perhaps in our back yard.