Alert Gazette readers know that I began documenting my critter trapping adventures
last summer
. Since then, I've caught armadillos, raccoons, possums, and one pretty stupid cat. The captive count has ballooned. In fact, I had to expand the Critter Capture Scorecard to accommodate all the new "guests." Here's the latest version: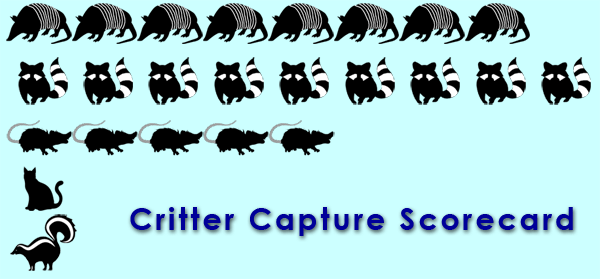 Uh...notice anything different about the scorecard, other than the increased population?
I've been routinely telling folks that I wasn't worried about catching a skunk, because they seemed to be disinterested in the sardines I put out as bait for raccoons (possums and cats are also attracted, unfortunately). I had plenty of game camera footage showing skunks walking by the baited trap without giving it a second glance, and if they did happen to sniff around it, they didn't spend much time there. I was pretty confident in my animal behavior conclusions.
That confidence was blown out of the water this morning about 7:30 when I opened the garage door and was confronted by a fine specimen of Mephitis mephitis, aka the ever-popular striped skunk. Well, dang. What now?
MLB and I had actually discussed this scenario, back when we thought it might actually happen (or, before I was sure it would NEVER HAPPEN). Our thinking was that we would just call Animal Services and let them deal with it. That was probably still the smart play, but I've never been accused of doing the smart thing, and I decided it was my problem to deal with.
While MLB googled tips on releasing trapped skunks ("talk in gentle tones to them," "crouch down so as not to be so threatening," "speak with a French accent, ala Pepe Le Pew." I might have made that last one up, but it seemed to be as valid as the other stuff.), I added a shot of bourbon to my coffee to still my nerves. OK, JK. I actually busied myself by videoing the little guy, and mentally working up a strategy that wasn't completely boneheaded.
We agreed that the best approach would be to sneak up on the trap, lay a blanket or beach towel over it (in the hopes that the skunk would be narcoleptic and instantly fall sound asleep), and then TRY to gently open the trap, followed by running and screaming but hopefully no stinking.
The biggest concern was that the trap's door was by design very difficult to open. It was made so that it couldn't be opened from the inside (although alert Gazette readers will recall that one rough-and-tumble raccoon
managed to thwart that feature
). This meant that the force necessary to open it from the outside would bounce around the contents of the trap, and that had uncomfortable implications.
In addition, the blanket or towel covering the cage would defeat the mechanism for locking the trap door in the open position...meaning that I would have to stand over the cage, holding the door open, until the skunk vacated the premises. What were the odds that it wouldn't notice a 6' tall doofus hovering over it?
Despite these challenges, I was determined either to be a shining example or a cautionary tale, and we proceeded as though we had good sense. I also decided that it was important to record the events for posterity, I think the following video speaks for itself.
As you saw, the plan actually and amazingly worked. The little skunk - they're really cute, by the way, when they're not ruining your life - was no worse for wear and lived to stink another day. The same could be said for me.
I will have to rethink my choice of baits, although I no longer have a clue about what attracts raccoons that doesn't entice skunks. Perhaps I'll just depend on the fact that skunks are so smart that one would never be trapped like that again. After all, I have such a firm grasp on animal behavior. What could possibly go wrong?