"Eric...come quick!"
I was sitting in the office late yesterday afternoon when I heard MLB's overly excited summons from somewhere in the middle of the house. I ran out to find her staring out the living room windows at something in the front courtyard.
"Oh, man. That's a water moccasin. Keep an eye on him while I grab a hoe!"
I scurried into the garage, found the hoe, and hurried to the courtyard where MLB was keeping an eye on the snake...albeit still through the window. It was still and stretched out in front of the window, not at all exercised about my presence.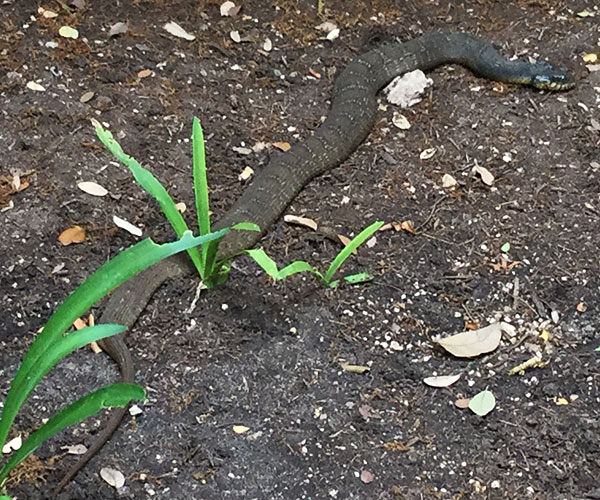 I started to behead the serpent when I noticed my neighbor across the street visiting with a man who was working on the new house next door. I yelled at them to come over. "Wanna see a water moccasin?!" They hurried over.
The neighbor stayed behind the fence to observe the proceedings, but the other man rushed into the courtyard with an obvious expression of interest on his face.
"That's a water moccasin, alright, but it's not a cottonmouth," he asserted. I was immediately confused and mentally docked points from his herpetological knowledge score. But the more he talked, the more it sounded like he did, indeed, know his snakes.
"It's not poisonous, and I wouldn't kill it," he said. I was still skeptical, but he began to lay out his supporting argument. It sounded logical, although as the snake continued to strike aggressively at the business end of the hoe blocking its path, I wasn't completely convinced. He continued, "if you won't kill it, I'll take it away."
"Uh...OK. But first...where, exactly, do you live?" I wanted to make sure he wasn't going to drive a block or two and let it go. It turns out that he lives 20+ miles down the highway, has a neighbor who works for the Texas Parks & Wildlife Department, and the two of them often collaborate on wildlife issues.
Having established his sincerity, I agreed to try to herd the snake into a moving box that MLB had brought from inside the house. The reptile wasn't initially keen to go where we wanted it to go, but we finally managed to persuade it to crawl into the cardboard box, and the gentleman happily hauled it over to his pickup.
He was working at the new house this morning when we returned after a run, and he flagged us down. I asked him how the snake release went, and he said that it slithered into the Pedernales River and immediately vanished. He said they measured the snake at more than three feet in length. "I also identified the species," he said as he opened his pickup door and pulled out a guide to Texas snakes. "It's a
blotched water snake
." It took him a while to rifle through the pages (Texas is home to a LOT of snakes) but when he finally found it, it did indeed seem to be "our" snake.
In reading more about the blotched water snake -- which, by the way, seems to be a highly uncomplimentary name, but I suppose the snake has no objections -- I learned that it is often mistaken for a cottonmouth. But the latter's eyes has elliptical pupils, while the harmless water snakes all have round pupils (see photo below). I'll leave it to you to decide how close you need to get to make that distinction. There are
a few other physical and behavioral differences
between the "good" and "bad" snakes, and they're worth learning if you live in an area where the latter are found, AND you don't subscribe to a philosophy that the only good snake is a dead one.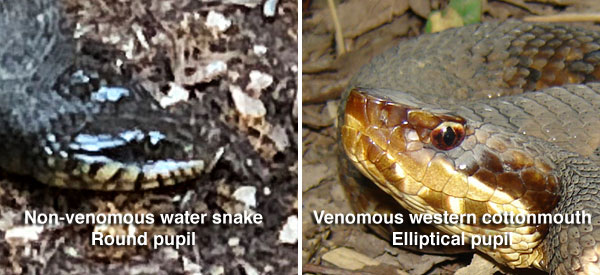 We all agreed that there was no good reason to kill non-venomous snakes, and several good ones for having them around (rodent control being at the top of the list). Nevertheless, I still wasn't willing to concede that venomous snakes found in a neighborhood were worthy of the same consideration, a position he advocates.
Now, having said that, we're still not keen on the idea of having even the good ones lurking around in our flowerbeds and lawns. Heart attacks are generally even more fatal than snake bites!