It's been awhile since I provided a wildlife update. But, first, here's a squirrel (turn up the sound to get the full effect):
That's the noise a squirrel makes when its annoyed or angry. I couldn't discern what caused this one's panties to get in a wad, but it was obviously too lazy to do anything but gripe about it. I'll remind you that the Gazette is an apolitical publication so don't try to anthropomorphize this phenomenon.
Back to the subject at hand. It's been a slow summer for wildlife in the neighborhood. It's been weeks since we've sighted any raccoons, skunks, foxes, or possums (and that includes not catching them on the game camera at night), much less trapped them. In fact, I've retired the raccoon trap to the attic until we find new evidence that they're around and up to no good.
I'm not naive enough to think that I've trapped out the area, but the aforementioned critters have apparently found more desirable habitats. One neighbor across the creek recently reported that his dog came out on the losing end of a tangle with a skunk in their back yard, so perhaps the crew has migrated north for the summer.
However, alert Gazette readers have no doubt noted the absence of one species from the aforementioned list. That's right...the
State Small Mammal of Texas
, the armadillo, has not abandoned our neck of the woods. I did have a few consecutive 'dillo-less weeks, but they're now back and making up for lost time. In fact, armadillo captures have caught up with and surpassed the raccoon count.
I've actually had to rework the Official Critter Capture Scorecard©, for reasons that should be obvious. Here's the original (and up-to-date) version: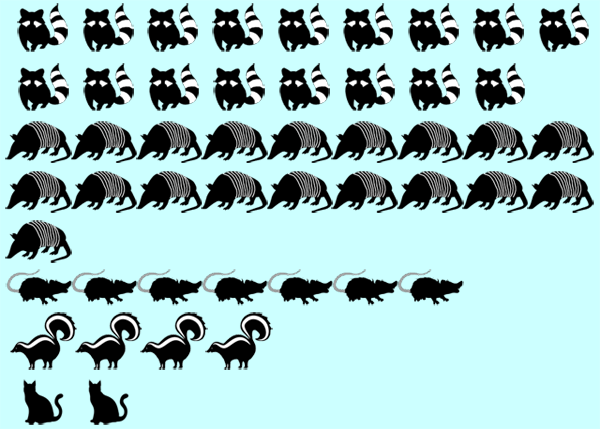 And here's the new improved version:
The first version is perhaps more visually impressive, but the new version has the distinct advantage of not requiring any counting. By the way, I've done some ciphering and determined that the next catch will make an even 50 animals that we've trapped and released in less than a year.
That's not to say that we're completely bereft of living creatures around the house. I'm contemplating doing a spider-centric post as our flowerbeds are practically overrun with orb weavers, but I'll have to undergo some arachnophobia therapy before I can do that. In the meantime, fixate on this more benign invertebrate as a visual amuse-bouche.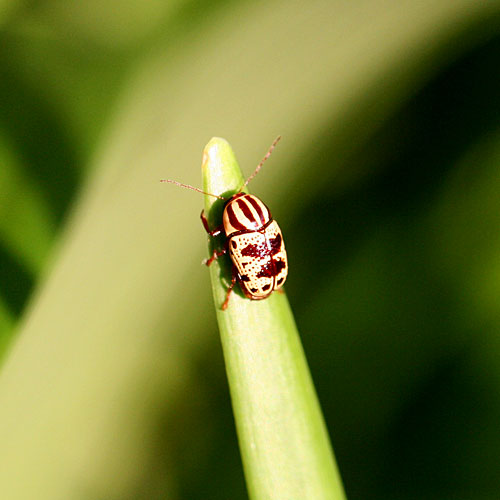 Oh, by the way...MLB and I have often remarked on one unusual aspect of wildlife in our vicinity, and that is the complete absence of rabbits. We had not seen a jackrabbit or a cottontail since moving here last summer...until this morning. As we were on the way to release the latest armadillo in an undisclosed location, MLB spotted movement along the road. I backed the truck up a half block and, sure enough, a jackrabbit was loping through the brush. I guess coyotes are next on the agenda.