Alert Gazette readers will remember that I'm in the middle of a VIRP, namely
digitizing a bunch of old vinyl record albums
. I'm now going through my parents' collection, and I've turned up another couple of gems.
But first, some context. I'm a long-time fan of Glenn Miller's music. In fact, one of the first music CDs I purchased was
In The Digital Mood
, which contained a dozen of Miller's original arrangements played by what was in effect a cover band (the musicians are listed on the preceding link). I remember playing it for my dad and pointing out that, while the music was certainly crystal clear, the most amazing thing was the absolute silence between the tracks. I also remember that while he said nothing in response, his expression communicated the fact that I was clearly daft and possibly switched at birth at the hospital.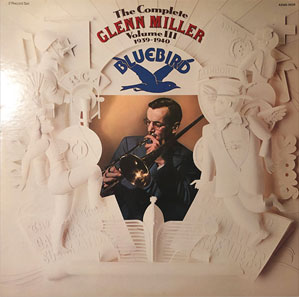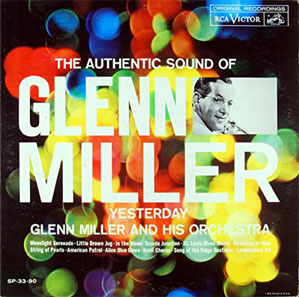 The first album, released in the mid-70s, featured songs that were originally issued by RCA Victor's budget label
Bluebird Records
. According to the liner notes on the second album (the entirety of which are included below), Miller actually requested that his music be published by Bluebird instead of the flagship RCA Victor in order to avoid the competition of the likes of Benny Goodman, Tommy Dorsey, and Artie Shaw. The Bluebird records primarily contain songs that I'm not familiar with, but there are arrangements of standards like
When You Wish Upon A Star
(the first Disney song to win an Academy Award),
Stardust
, and
Melancholy Baby
.
On the other hand, The Authentic Sound album is pretty much a greatest hits collection, with the exception of Alice Blue Gown, a waltz that I'd never before heard. Miller was primarily known for his swing music, and waltzes were a rarity in his book, according to the album's liner notes.
And speaking of liner notes -- they are real focus of this post. They were written by George T. Simon, a close friend of Miller, his drummer in the band's early days and then later as a member of the AAF Band, and eventually a long-time editor of
Metronome
, a music magazine that ended in 1961 after eighty years of publication. After reading up a bit about Mr. Simon, I suspect that if there was anything he didn't know about jazz and swing during the Glenn Miller era (and for decades afterward), it probably wasn't worth learning.
Liner notes (aka album notes) are a literary art form that I suspect are underappreciated in the age of streaming music. But I didn't realize that "
Best Album Notes
" are an ongoing Grammy Award category, and have been since 1964. And in 1978, George T. Simon won a Grammy in this category for his contribution to a Bing Crosby album. (By the way, that Wikipedia article about the Grammy award is a fascinating read in itself, containing such tidbits as Johnny Cash's award for the notes on a Bob Dylan album, and Tom T. Hall's award for the notes on...a Tom T. Hall album.)
Excuse the rambling...back to the subject at hand. The Authentic Sound album is a pleasure to listen to, especially knowing that it represents performances by the actual musicians that comprised the Glenn Miller Orchestra and the Army Air Force Band. The skill of those musicians is evident even to a casual listener. If you can find a copy of the album, I recommend it...and not just for the music.
Simon's liner notes, following a quick history of Miller's early recording career, provide a descriptive blurb for each of the dozen songs on the album. Simon assumes a certain amount of musical knowledge on the part of the reader, and throws in details that only someone who was on the ground with Miller could have known. Glenn Miller's arrangements and his bands' skill made their music incredibly accessible, but Simon's liner notes somehow even improve that accessibility. For that reason -- and to preserve the historic record -- I'm reproducing those notes in their totality below. You may think that's a geeky thing to do and I won't argue it's not, but if you're a Glenn Miller fan, I believe you'll appreciate Mr. Simon's contribution.
By the way, even if you choose to skip most of the liner notes, at least
jump to the bottom
and read the one about
Little Brown Jug
, because I include a little surprise to go along with it.
The Authentic Sound Of Glenn Miller -- Yesterday
Glenn Miller and His Orchestra
Album notes by George T. Simon
(George T. Simon, a close friend of Glenn Miller's, helped him organize his original band and played drums in it during its early stages. As a friend, and as editor of Metronome, he remained close to the band during its entire life, and later joined Miller as a member of his AAF Band. He is currently a free-lance recording and television producer.)
This is the way the Glenn Miller band used to sound in its heyday. The tunes are a dozen of the most popular the band ever recorded and all these versions are the RCA Victor originals, most of which, of course, were first issued on the company's economy-priced Bluebird label. Seems Glenn wanted it that way when he first joined the company, because he figured he'd have less competition from Victor's already established star bands such as Tommy Dorsey, Benny Goodman and Artie Shaw, all close Miller friends, by the way. Toward the end, though, the Miller band became such a big attraction that everyone concerned considered it most ridiculous not to raise the band to the advanced-price label - ergo, Rhapsody in Blue and American Patrol appeared on Victor.
You may not hear any stereo sounds, nor modern jazz choruses either, on these recordings, for they were made in the period from April 1939, when the band was playing its first engagement at Frank Dailey's Meadowbrook, to July 1942, shortly before Glenn volunteered and was accepted by the U. S. Army Air Force. But you will hear a meticulously disciplined crew that had an over-all sound and definiteness that few outfits approach these days. For Glenn was a disciplinarian who would even drill each section individually for hours at a time, if necessary, and then eventually blend each of them into a cohesive whole. It was a band whose musicians worked with a zeal and a pride and a sense of purpose that are rather rare on today's scene.
All of these sides have been previously reissued on RCA Victor long-playing records, but they have been programmed this way especially as interesting contrast to the new recordings of the same arrangements made by today's Glenn Miller band under the direction of Ray McKinley on a companion disc.
American Patrol (April 2, 1942) was arranged by Jerry Gray and features another arranger, Billy May, on trumpet. The band had achieved an amazing precision by this time, quite apparent on this recording.
Rhapsody in Blue (July 16, 1942) was the band's final commercial recording. Bobby Hackett, who also played guitar in the band, is featured on trumpet, while Tex Beneke blows the very relaxed, wistful tenor sax.
In the Mood (July 1,1939) proved to be one of the band's really big hits. Originally this was a long work which composer Joe Garland had first given to Artie Shaw, but the latter couldn't cut it down to effective record-length size. This Glenn did. The two-bar tenor solos alternate between Beneke and Al Klink, a vastly under-rated saxist in those days, while Clyde Hurley plays a forceful trumpet solo.
Alice Blue Gown (March 31. 1940) was one of the few waltzes in the band's book. The very legitimate, Freddy Martin-like tenor was played by Beneke.
Song of the Volga Boatmen (January 17, 1941) got the following review in the March 1940 issue of Metronome : "The influence of Billy May becomes more apparent in the Miller band, record for record. It gets its best beat on Song of the Volga Boatmen an interesting arrangement on which the band really kicks. May plays some fine muted trumpet and Ernie Caceres gets off a helluva good alto passage. It'd be an interesting thing for somebody to explain exactly why this band's jazz started perking up when May joined it." I agree with the review. I should. I wrote it.
The Anvil Chorus (December 13, 1940) is a telescoped version of parts one and two that comprised the original Bluebird record. Soloists In order: Beneke's tenor, Hurley's trumpet, Chummy MacGreggor's piano fill-ins Moe Purtill's drums and recently-arrived Caceres' clarinet passage that shows the influence of Pee Wee Russell with whom he had been playing.
Moonlight Serenade (April 4, 1939) offers the perfect sample of the band's distinctive clarinet lead reed sound. It's beautifully played here, with a sectional blend that no Miller imitator has ever been able to match.
St. Louis Blues March (July 1943) is played by the Miller AAF Band. This particular version was recorded in RCA Victor's studios especially for V Discs. [Ed. "V Discs" were special recordings made for the benefit of U.S. military personnel.] The big band made a special trip down from New Haven for this session and used a larger brass and reed section than the civilian band employed. Ray McKinley was the leader of the drum section. The alto sax solo is by Hank Freeman.
Londonderry Air (February 5, 1940) was one of the band's early stage show features, with the reeds and brass sections set in dramatic pin spot lighting. Interesting sidelight: On the band's first stage show, the lighting man became confused and kept lighting the section that wasn't playing. Glenn still managed to get out his trombone solo, however. This number was originally recorded under the title of Danny Boy.
String of Pearls (November 3, 1941) features an alto sax chorus by Caceres and then two-bar alto sax exchanges between Caceres and Beneke in that order, followed by another challenge on tenors between Klink and Babe Russin, who recorded with the band for one date only. (Procedural verification by Klink, himself.) Beneke was also playing lead alto, returning to tenor when Skip Martin joined the band shortly thereafter. The pretty trumpet is blown by Bobby Hackett.
Tuxedo Junction (February 5, 1940) spots Hurley on the open jazz solo and Dale McMickle on the daintier, muted passage. There's a Moe Purtill drum solo in place of the bass passage heard on the McKinley version.
Little Brown Jug (April 10 1939) was, despite anything you may have seen and heard in the movie of Miller's life, the band's first Jazz hit. Bill Finegan, of later Sauter-Finegan fame, wrote the arrangement which features solos by Beneke and Hurley and a swinging passage by Glenn himself.
GEORGE T. SIMON
So, Glenn Miller was a trombonist, but he's rarely heard playing with his own band. Since Mr. Simon has kindly pointed out that
Little Brown Jug
is an exception, I thought it would be fun to extract Miller's solo for your listening pleasure. Here 'tis: