Alert Gazette readers will recall the Gazette's staff's unnatural fixation on
vinyl albums featuring the music of Glenn Miller
, and album notes related thereto. For those who were hoping this was a passing fancy, we regret to inform you that there's (at least) one more episode.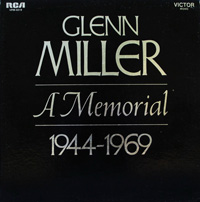 I have previously mentioned that I'm digitizing LPs from my parents' collection, but I've also got a few albums that were previously in the possession of my father-in-law. One of those, a two-platter set, is entitled
Glenn Miller -- A Memorial -- 1944-1969
.
If you're wondering, as I did, about the seemingly odd span of years in the album title, the only explanation I found is that it corresponds to the 25-year period between Miller's disappearance over the English Channel and the year of this album's release. It's a non-intuitive reference, to be sure.
This particular collection contains thirty of Miller's performances, most of which are duplicates of other albums I've already digitized. But there are some new cuts, such as
Perfidia
,
Elmer's Tune
, and
At Last
, a song that I had always attributed to Etta James but which was actually first recorded by Miller's orchestra.
One track that appears on more than one album is a swinging arrangement by Bill Finegan of
Song of the Volga Boatmen
, the no-doubt-familiar-to-you, normally-dirge-like Russian folk song. I started to give you my own condensed description of how this arrangement unfolds, but instead I'll direct you to
this Swing & Beyond post
that leaves absolutely no stone unturned. But I will tease you with a clip highlighting Ernie Caceres's 30-second alto sax solo:
The tracks on this collection are listed in the order of the recording dates for each song, beginning in April, 1939 and ending in July, 1942, the year Miller enlisted in the Army. He recorded additional music with the Army Air Force (AAF) band he led, but no additional recordings with his original orchestra were made.
Liner Notes
The album notes included in this collection are significant due primarily to their author:
Benny Goodman
. Mr. Goodman elected to not comment on the individual performances included in the collection, but rather focused on his personal relationship with and observations about his fellow musician and close friend. Following are those liner notes in their entirety.
The Personal and Distinctive Sound of Glenn Miller and His Orchestra
The majority of you who buy this record are probably dyed-in-the-wool fans of Glenn Miller and His Orchestra, and perhaps this music will revive the memories of dancing to Glenn in person.
I too have been a Glenn Miller admirer, and for over a longer time than any of you, for we were friends for many years. During the late '20s we worked together in Ben Pollack's Band, for which he arranged and played trombone and in which I played sax and clarinet. When the band broke up in the early '30s, Glenn and I lived together and hoped we would find enough work to support us.
At first it wasn't easy. Those were deep depression days and there wasn't enough work to go around for all the musicians. We lived at the Whitby Apartments on West 45th Street and things got so rough for us that occasionally we would get up early and borrow empty mile bottles from in front of other apartments and cash them in at the local grocery store so we could buy hot dogs for lunch.
Glenn in those days was exactly the same as he was about eight years later when he became leader of the most popular band in this country. He was an honest, straightforward man and you knew just where you stood with him. He was always serious about his work, but off the job he was an excellent companion with a wonderful sense of humor and a great feeling for the ridiculous. Have you ever heard the nonsensical lyrics he wrote for the Dorsey Brothers record of Annie's Cousin Fanny? You had to have a pretty real sense of humor to come up with ideas like those.
We who knew him well in those days found him to be an excellent friend - generous and concerned, sometimes serious, but never stuffy, and all the musicians in our circle admired him tremendously. He was a dedicated musician and an excellent arranger, full of original ideas such as the lyrics he contributed to the Charleston Chasers recording of Basin Street Blues, the one on which Jack Teagarden sang. We both played in the pit of two Gershwin shows: Strike Up The Band and Girl Crazy.
I think his greatest contributions were made to organized dance orchestras. He wrote many fine arrangements for us in the Pollack Band, so when the Dorsey Brothers decided to form their own band, they asked Glenn to arrange for them. He not only created some exciting charts but also played a major part in the formation of their band. And so it wasn't surprising that when Ray Noble came to this country he selected Glenn as organizer and arranger for his American band. Here again Glenn turned in a first-rate job.
Those of us who had been close to Glenn weren't entirely surprised when he decided to form his own band. After all, he had proven himself to be a careful and thorough organizer and rehearser, and, even though he had never officially been credited as such, at least some sort of co-leader of the various bands in which he had played.
As all Miller fans know, it wasn't easy for Glenn at first. I remember that in either late 1937 or early 1938, when we were playing in Dallas, I ran into Glenn, whose band was working one of its first steady jobs at the Adolphus Hotel, and he was very downcast and discouraged and kept asking me just what it was he needed to become successful. I really couldn't tell him anything he didn't already know, but I remember I did try to encourage him all I could. Nothing I said, I suspect, had anything to do with it, but within a year Glenn's band had suddenly hit. If after that anybody was going to anybody else for advice, it might have been smart of me to turn to Glenn for his!
Many people try to analyze just what it was that made Glenn's music so successful. I can think of several reasons. He had a great sense of the commercial, of what would attract the average listener, and this he managed to do without sacrificing his musical integrity. This is one reason why his band was so loved by so much of the public while still retaining the respect of so many musicians. Glenn was also able to find the particular sound he was looking for that gave his orchestra the personal and distinctive sound which was recognized as his signature.
Glenn had an amazing ability to recognize talent, even when it was in the raw, and to help develop it. Think of the many young musicians who broke in with his band - men like Tex Beneke and Hal McIntyre and Trigger Alpert and Willie Schwartz, and especially the arrangers like Bill Finegan, Jerry Gray and Billy May who had done all right with other bands, but really blossomed under Glenn.
And, finally, I should point out that Glenn had a great knack for handling people. He may have seemed aloof to some of his public - and that aloofness was natural, for Glenn was not an outgoing person, at least not until he got to know somebody well - but he still managed to impart a sort of mature warmth to his public. However, it was in dealing with musicians that he really shone. He was a "driver," as many of us leaders of those days were labeled, but he drove his men gently and with reason, and he invariably respected them and treated them as human beings, just as he himself always expected to be treated by others.
The music contained in this album certainly reflects the spirit of Glenn Miller, the Musician. I hope these notes will have added to your knowledge of Glenn Miller, the Man. I shall ways remember him and be grateful to have had him as a good friend.